Ford Fiesta ST200 showcased at Geneva Motor Show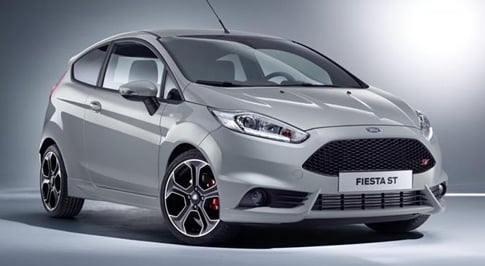 A new, even more powerful version of the Ford Fiesta ST has been unveiled in Geneva, and is set to reach the UK market this summer.
The high performance hatchback boasts a refined form of the ST's 1.6 litre turbocharged EcoBoost engine, and has had a boost from 180bhp to 197bhp, and torque has increased to 214lb/ft, up from 180lb/ft. The cars' overboost function comes as standard and can increase these specs further, up to 212bhp and 238lb/ft, for up to 15 seconds.
While the ST already has an impressive selection of trims and tuning options available, the ST200 features even more extensive modification options. Drivability has been improved overall thanks to a couple of smart tweaks under the bonnet, and the top speed has increased to 143mph, up from the ST's 139mph. The ST200's exterior looks great too, with a silver-grey finish and 17 inch matte black alloy wheels. Inside, black part-leather seats feature silver stitching, as do the seatbelts.
Ford is expected to announce a new model in 2017, and so the ST200 may be the last of its generation of Fiasta. Joe Bakaj, of Ford Europe, said the ST200 was "a future classic in the making". With the ST already having made huge sales in the UK, it looks likely that he will be right.