New Fiesta ST-Line and Focus ST-Line models announced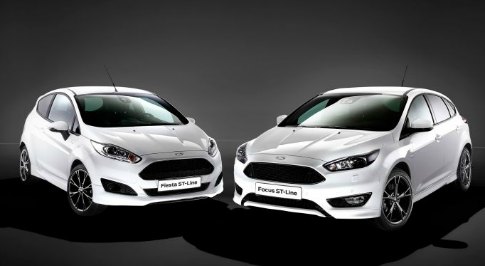 Ford's Fiesta and Focus are to gain new ST-Line versions, the carmaker has announced.
Ford has said that the sport-themed models will have a focus on efficiency over performance, and will feature stylish extras, with the intent of harking back to the look of ST hot hatches. Rather than match current hot hatchbacks for performance, Ford's ST-Line models will focus on better fuel efficiency while retaining respectable performance.
Both the Fiest ST-Line and the Focus ST-Line will feature sports suspension, redesigned alloys, updated exterior bodywork, and a sports steering wheel. The front grille has been revamped with an attractive honeycomb pattern, and the front foglights have been given a makeover, now boasting dark surrounds.
The Fiesta has a choice of 1.0 litre engines including 99bhp or 123bhp, and the Focus ST-Line will come with a selection of engines from 118bhp and 1.5 litres, to 2.0 litres and 147bhp. The Fiesta St-Line is starts at £15,645, and the Focus ST-Line begins at £20,595, offered in five door and estate.