Ford Mustang has the Need for Speed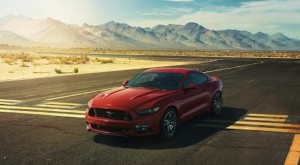 Motoring enthusiasts are already salivating at the prospect of the Ford Mustang finally arriving on UK soil for general sale later this year, but the announcement of the car's latest silver screen outing is only set to build this excitement further.

The muscle-bound Mustang will be one of the main vehicles featuring on the upcoming Hollywood blockbuster Need for Speed, a film based on the successful video game franchise and starring Breaking Bad's Aaron Paul.

Mustangs are no strangers to featuring on the big and small screen, having appeared in 3,200 movies and television shows.

The model is set to be the 'hero car' in the upcoming movie, marking the film debut of the all-new Mustang and celebrating the 50th anniversary of the incredible machine.

Jim Farley, Ford executive vice president for global marketing, sales and service, recognised the car's iconic status in popular culture for almost five-decades.

"The feeling of optimism and being in control that Mustang's world-class power and performance provide is a perfect match for Aaron Paul's character in Need for Speed," he said.

Director Scott Waugh noted the car's ability to truly represent American culture while adding that it has been in some of the greatest car chase movies throughout history. He also said it is the pinnacle of modern muscle cars.

The film is set to premiere in March this year, and a teaser video has shown the Mustang in action.

It will be available with the latest turbocharged Ecoboost 2.3-litre engine, or a meaner 5.0-litre V8 delivering over 426 PS and 529 Nm of torque.

The car will also come with a host of state-of-the-art technologies and connectivity systems, such as driver-assist, track apps and launch control.