Ford prepares for European SYNC AppLink launch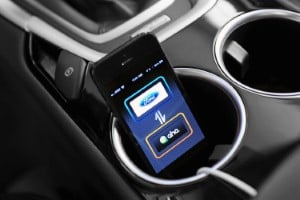 The US vehicle market has been embracing the SYNC technology that has featured in Ford models since 2005. Recently, the introduction of an AppLink service has made SYNC even more popular among consumers and Europe will soon welcome this latest edition.

The SYNC system is a hands-free entertainment and communications system, with drivers able to access it through voice activation. It includes satellite navigation, Wi-Fi connectivity and a 4.2-inch cluster screen. However, AppLink will now allow customers to use these systems through their mobile phones. This will see drivers able to access some of their favourite smartphone apps through voice commands while on the move.

It won't be long until Europe welcomes this innovative technology. The carmaker is looking to introduce 3.5 million vehicles with SYNC in the continent by the mid-decade and drivers will be making the most of the new app.

The feature is usually available in models such as the B-MAX, Fiesta, Focus, C-Max, Grand C-Max and Transit Custom. Ford has now produced ten million versions of the SYNC adorned cars in the US, proving how customers are fighting to get their hands on the models.

Jim Farley, Ford head of Global Marketing, said: "Ultimately, SYNC embodies what Ford is all about - going further to turn innovative ideas into products that are affordable, attainable and valuable to millions of people."

Ford's aim is to make their already popular models even more interactive with customers and continue to work with researchers to create a connected car network.