Ford EcoBoost engine is the height of innovation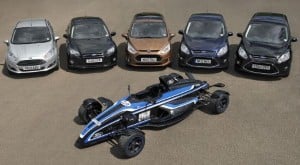 The Society of Motor Manufacturers and Traders (SMMT) has presented the Ford 1.0-litre EcoBoost engine with the Award for Automotive Innovation.

Currently available in models such as the Fiesta, Focus, B-MAX, C-MAX, Tourneo Connect and Ford Transit Connect, the engine was praised so highly that it even beat off competition from the McLaren P1 supercar.

To give an example of its performance credentials, using the Ford Fiesta as an example, the EcoBoost engine can deliver 125PS, 65.7 mpg and produce CO2 emissions of just 99g/km.

It is a remarkable piece of British design, with work conducted on the engine at Ford's research and development centres in Dunton and Dagenham.

SMMT chief executive and award judge Mike Hawes was full of praise for UK automotive engineering talent, which is able to produce excellent products such as the EcoBoost technology.

"The outstanding calibre of the entrants to this year's Award is testament to the wealth of design and engineering talent here in the UK. SMMT is working hard with its members and government to ensure the UK maintains and develops its position at the forefront of automotive innovation," he added.

In addition to its impressive performance in standard production vehicles, an EcoBoost engine also powers the FF1 Formula Ford-based road car, which has recorded the 11th fastest time on a lap of the Nurburgring.