For many drivers, exclusivity is a big draw – from collectors of classic, hard-to-come-by motors to those just wanting something that stands out in a multi-storey.
But considering the 32 million (and counting) licensed models in the UK, there's no way to be sure you're driving a standout car. Until now, that is. Bristol Street Motors has sifted through the latest Department for Transport data on every licensed model to give a specific count and rarity ranking for each car.
Ford, Vauxhall and Volkswagen account for most of the top ten
The six most common UK models are built by Ford, Vauxhall and Volkswagen alone, with BMW, Nissan, MINI and Toyota filling the rest of the top 10 spots. It's the other end of the scale, however, that will be of most interest. Use our interactive tool below to see exactly how common each car is, from the table-topping Ford Fiesta to the almost-untouchable Lamborghini Centenario.
Models with up to only 50 examples on the road have our highest rarity ranking, Extremely Rare. The cars here include the limited-run McLaren Senna, inspired by the F1 legend of the same name, and the Rolls-Royce Silver Shadow.
However, the most coveted positions aren't dominated by the likes of the luxury brands –typically common brands such as Renault, Honda and Volkswagen are well represented here, too.
Chevys are few and far between in the UK
We also took a regionalised look at the data, picking out the least represented car manufacturers by areas in the UK. By numbers, American brand Chevrolet came out as the rarest overall, with only 84,000 examples on our roads or 26 for every 1,000 licensed models.
Another gem is smart, which is the rarest car make in two thirds of the regions – in Northern Ireland specifically, there are only nine smart cars for every 1,000 models.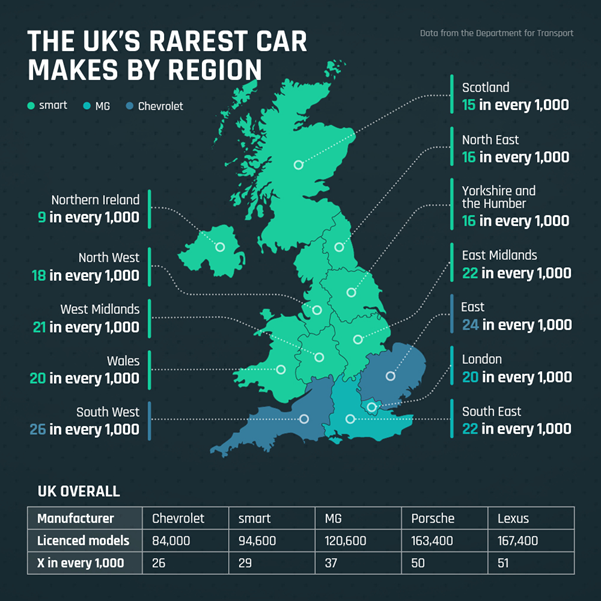 In fact, we found a few other interesting points when taking a localised look at the numbers. Only two of the 12 regions had no premium brands among their least common manufacturers – London and the South East.
Elsewhere, high-end car makes Porsche and Lexus repeatedly came out as some of the rarest around.
Methodology
Taking the Department for Transport's figures on the UK's licensed car models, covering more than 50,000 makes, models and variants, we consolidated the data into top-level models for comparison.
These counts were then compared with the UK total of 32.3 million cars to create values as a percentage of the overall and a rarity ranking from Extremely Common to Extremely Rare. For the secondary data on rarest car makes by region, we looked at the regionalised figures.
Bookmark the Bristol Street Motors Newsroom for similar features and industry news, or check our latest deals on new and used cars.