How to get out of an emergency vehicle's way safely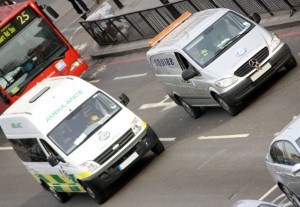 Whether you drive a Ford Focus or a Mazda RX-8, it is important to know how to make way for emergency services vehicle safely, it has been claimed.

According to the Institute of Advanced Motorists (IAM), Brits need to be more aware of what to do when they see blue flashing lights and hear sirens.

Head of training Simon Elstow explained that keeping calm is essential in these situations and urged drivers to turn off the radio so they can concentrate and think about their next move.

Road users should only stop or pull over where it is safe to do so and this means avoiding kerbs, pavements and verges.

It is also important never to run a red light or enter a bus lane to avoid an emergency services vehicle unless instructed by the police.

Even those who are doing so in good faith are breaking the law and leave themselves open to penalties as a result.

Another tip is to listen for other emergency services vehicles, as there are often more than one attending incidents.

"Sirens and flashing lights cause many motorists to panic, mainly because drivers are not routinely taught how to respond to them," Mr Elstow said.

"The trick is to behave calmly, legally, safely and predictably and move out of the way as soon as it is safe to do so."

IAM recently urged drivers to ensure their insurance details are up to date after the government announced a clampdown on uninsured driving.