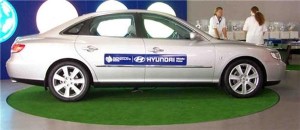 A Hyundai model that remains largely unknown to the public offers "a very comfortable ride", according to one review.

Honest John notes that the Hyundai Grandeur features a new six-speed transmission and a 3.3-litre V6 petrol engine that delivers a 12 per cent improvement in fuel economy compared with its predecessor.

It can accelerate from 0 to 62mph in less than eight seconds, while it also sports enhanced overtaking performance.

The reviewer recorded that although the model is "unheard of by nearly everyone", it offers a "high level of standard equipment" and is very comfortable to drive.

It has a 469-litre boot space and can achieve 27.7mpg.

Meanwhile, a new Hyundai model has been caught on camera which experts believe could be a test model of a new Grandeur or Azera design.

One website compared the car to the 2011 Sonata, but noted that it is "bigger, faster and more luxurious".