Hyundai i40 Tourer impresses with styling and refinement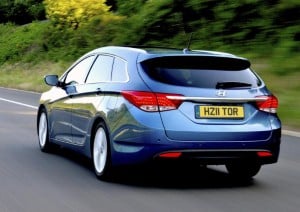 The upcoming Hyundai i40 Tourer is good looking, well designed and spacious model, according to one review.

Writing on Honest John, David Ross put the car through its paces ahead of its UK release in September, concluding that it shows how far the manufacturer has come in the last ten years, "particularly in terms of quality, styling and refinement".

According to the writer, the i40 Tourer is a good example of Hyundai's new 'fluidic' styling already showcased by the ix35 and the ix20.

Created with a sleek profile and luxurious interior, the car has an upmarket appearance and a high build quality.

The reviewer stated: "[The i40] is well built, refined and should be good value. Add in Hyundai's Five Year Triple Care package and the i40 looks a winner."

Allan Rushworth, Hyundai's senior vice president, recently said that the new car was the manufacturer's most significant in recent years.

It will be available with two petrol and diesel engines from launch - including a 134bhp 1.7-litre diesel - while day time LED headlights, chrome-edged window detailing and a sculptured side panel will provide the car with plenty of character.