Hyundai rolls out new eco i10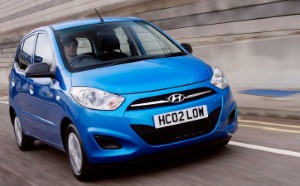 Hyundai has announced plans to produce an updated version of its most popular small city car.

From March 1st, motorists will be able to invest in the Hyundai i10 Blue, which is the manufacturer's first car to offer emissions below 100g/km, making it exempt from the London congestion charge.

The car has been built with a one-litre, three-cylinder Kappa engine, which is Euro 5 compliant for clean performance and replaces the 1.1-litre Epsilon unit for lower running costs.

It is the only five-seater model in its class to offer emissions of 99g/km.

"Equipment specification across the Hyundai i10 range remains impressive, with usually optional features, such as air conditioning and the addition of an iPod plug-in, standard fit on all new i10s," the company noted.

Hyundai will also update its ix35 and ix20 ranges simultaneously, rolling out four trim grades - Blue, Classic, Active and Style.

The manufacturer is also offering tax-free deals on many of its most popular vehicles for the first quarter of 2011.