Introducing CUPRA's First All-Electric Vehicle The CUPRA El-Born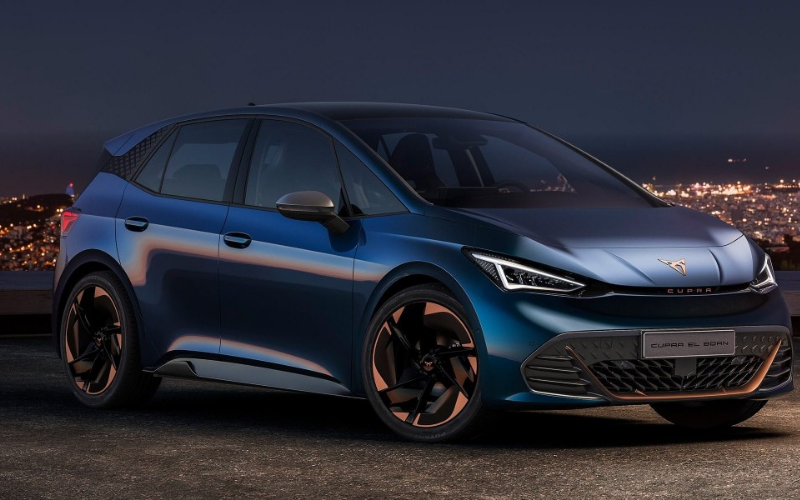 The future is electric and CUPRA has confirmed the arrival of its first all-electric model: the CUPRA el-Born
The el-Born has been recognised for its sleek look and personality and has been given a sportier character, providing a more impressive visual appeal.
Watch the video:
The new model, which will be manufactured at the Zwickau plant in Germany, has been designed with performance and dynamics as a clear point of focus. The Dynamic Chassis Control Sport, combines the sporty driving height of the car with a system that is adapting automatically to any conditions, offering a superior level of driving dynamics.
The interior combines the CUPRA philosophy of quality and performance with sophistication, which is highlighted by the sportive bucket seats, new steering wheel with Drive Profile Selection, along with the high-quality material choices. The interior of the el-Born has a particular focus on sustainability, in which recycled materials have been used within the car's stunning interior.
The future is electric, so why not start as you mean to go on and purchase an EV for your first car. You'll be doing your bit for the environment and won't have to worry about making the switch when the time comes to it! There are various benefits to choosing an electric vehicle such as, free road tax and low running costs.
The launch of the new CUPRA el-Born in 2021 will bring a unique and exclusive product for those looking for the most advanced technology with the lowest carbon footprint impact.
Want to learn more?
For more information on electric vehicles, visit our EV hub page where you will find everything you need to know about making the switch, along with our current range of electric and hybrid vehicles to browse.
Book an appointment today to speak to one of our sales team about the All-Elecric El-Born.