Introducing the New Citroen E-SpaceTourer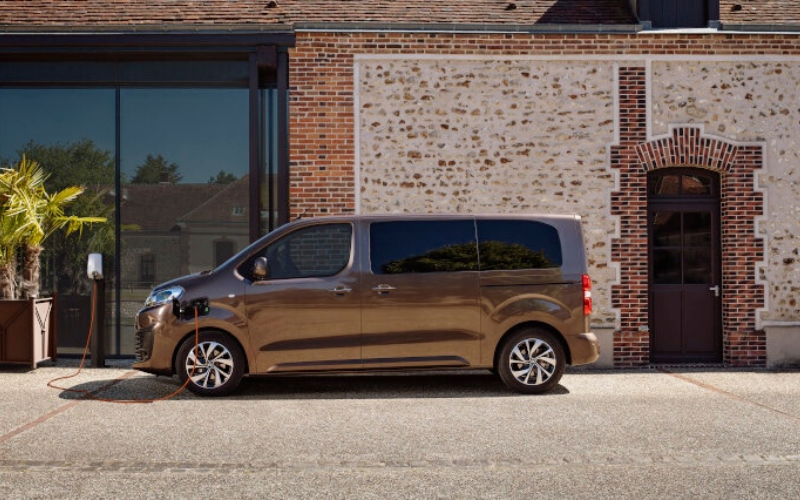 Four years after making its world debut, Citroen's popular MPV has been electrified!
The New Citroen e-SpaceTourer delivers zero emissions on every journey - without compromising on performance. Featuring the same comfort levels, space and practicality features as the fuel engine alternatives, the New e-SpaceTourer offers a whole new driving experience for families and businesses alike.
Read on to find out what the New e-SpaceTourer has to offer.
100% Electric
Modern, versatile, comfortable... and now 100% electric!
Offering an impressive range of up to 143 miles, the e-SpaceTourer enables drivers to carry out their day to day journeys without any fear of running out of charge. Every journey can be completed on zero emissions, which helps to improve air quality, reduce carbon footprint and helps save drivers money.
The 50-kWh lithium-ion battery pack has been fitted under the floor to preserve the boot and cabin space of the vehicle and comes with an 8 year/100,000-miles warranty for extra peace of mind.
Like all other electric vehicles, the e-SpaceTourer has no gearbox and, therefore, delivers a smooth and easy drive. Providing a powerful 260 Nm torque, it's quick off the mark and offers exceptional handling and manoeuvrability, making it a great MPV for any road.
Charging
Charging has never been easier. The New Citroen e-SpaceTourer can be either plugged in at home or on the go, and charging can be monitored through the My Citroen app.
The time it takes to recharge is dependant on where the MPV is plugged in. At home in a standard 3-pin socket, it can take less than 8 hours to reach 100% charge. However, if it's plugged into a super-fast public charging point, it can take as little as 30 minutes to reach 80% charge – perfect for if it needs topping up on the go.
On-Board Comfort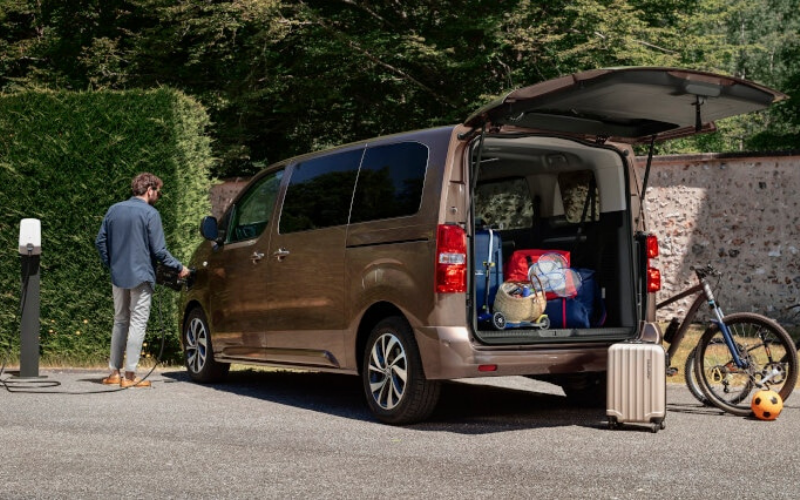 Whether for business or pleasure, the Citroen e-SpaceTourer provides on-board comfort for all passengers.
With room to seat up to nine people, everyone can fit in comfortably and the My Citroen app enables drivers to remotely pre-condition the cabin so it is the right temperature before climbing in. By having no gearbox, the journey is smooth and quiet, allowing for a relaxing drive every time.
Equipped with the latest technology to enhance connectivity and improve safety, the e-SpaceTourer is jam-packed with driver aid systems, including Coffee Break Alert and Hill Start Assist, to deliver an easier and stress-free driving experience.
Caters for Family and Business Needs
The two different trim levels – 'Feel' and 'Business' – cater to both family and business customers.
The e-SpaceTourer 'Feel' is available as a 5, 7, or 8-seater and is perfect for large or extended families, or for those who love travelling with friends.
The e-SpaceTourer 'Business' is great for taxi companies, airport transfers and companies alike, and can seat between 5-9 people comfortably.
Both trim levels are adaptable to optimise comfort, space and the driver's needs. There are plenty of storage compartments to help keep the interior decluttered and the boot provides ample space to fit in large amounts of luggage.
By introducing an all-electric version of one of its most popular MPVs, Citroen continues to follow its 2020 'Citroen goes Electric for all' philosophy and brings more choice for drivers to make the switch to a greener driving future.
Expected to arrive into dealerships at the end of the year, why not check out our current range of Citroen SpaceTourers while you wait!
View Our Current SpaceTourer Offers