Introducing the New Renault Megane Hatch E-Tech Plug-In Hybrid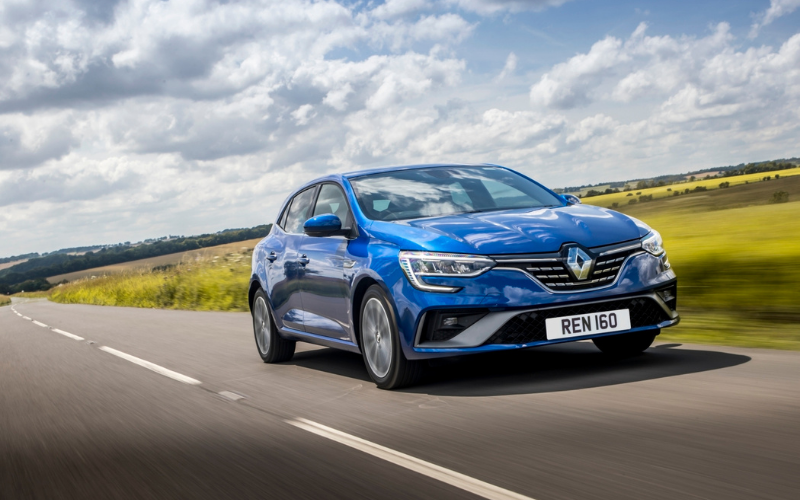 Renault has expanded its electrified offering in the Megane line up, with the New Megane Hatch E-Tech Plug-In Hybrid. This will complement the existing Megane Sports Tourer that is available with the advanced powertrain.
The new Megane model combines superior efficiency with responsive performance. It offers an impressive fuel economy and low emissions, without having any detrimental impact on acceleration or driving experience.
The addition of the New Megane Hatch E-Tech Plug-In Hybrid means that Renault now offer an electrified option for everyone – with hybrid and fully electric versions available across the whole passenger car range.
Two trim levels will be available for the Megane Hatch E-Tech Plug-In Hybrid; the Iconic E-Tech Plug-In Hybrid 160 Auto and the sporty R.S. Line E-Tech Plug-In Hybrid 160 Auto. Both versions are well-equipped, as the standard specification includes an impressive line-up of tech. Expect EASY LINK navigation, infotainment and a whole host of driver assistance systems for your own convenience and safety.
Exterior
The Megane Hatch E-Tech Plug-In Hybrid will certainly stand out from the crowd.
The Iconic spec features C-shaped LED daytime running lights, 16-inch diamond-cut alloy wheels with a Slate Grey finish, chrome detailing on the door handles and tinted windows for enhanced style and comfort.
The R.S. Line model has a more distinctive look that screams performance, featuring exclusive body-coloured R.S. Line bumpers and 17-inch diamond-cut alloy wheels.
Both models also display subtle E-Tech badging to highlight their efficient drivetrain.
When it comes to paintwork; ten different body colours are available for customers to choose from; including Flame Red, Iron Blue and Titanium Grey.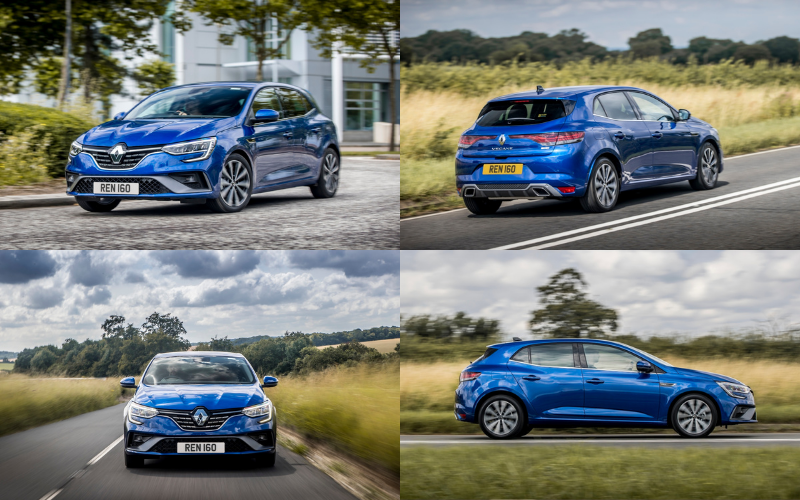 Interior
Inside, the Megane Hatch E-Tech Plug-In Hybrid is a truly unique space. It's sleek, sophisticated and packed full of technology. Plus, five comfortable seats and a roomy 308 litres of boot space (extending even further with the rear seats lowered), mean there's ample room for the family and all their gear.
The Iconic trim has a smart feel inside, with a leather steering wheel and a brushed aluminium finish on the instrument and door panels. Whilst the R.S. Line model offers an extra element of sportiness, with dark upholstery and red detail stitching running throughout the cabin.
Both vehicle trims also come with dual-zone climate control to help enhance interior comfort for drivers and passengers alike.
From a tech perspective, the Megane Hatch E-Tech Plug-In Hybrid has it all – as standard. From the state-of-the-art EASY LINK infotainment system to the latest driver assistance technologies, Renault has got it covered.
Both models are equipped with tools such as Hill Start Assist, Anti-Skid Regulation, cruise control with speed limiter, front and rear parking sensors, lane departure warning and automatic high/low beam headlights, to name a few. Plus, you can also expect handy USB ports, Bluetooth connectivity and Android Auto and Apple CarPlay functionality.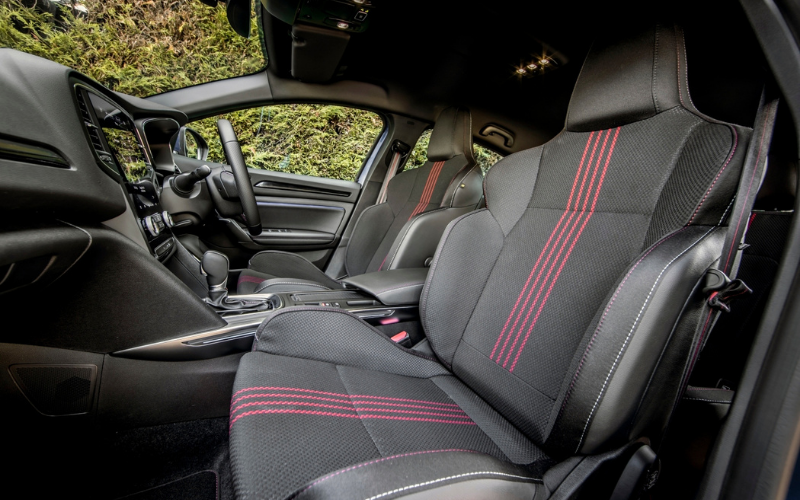 Powertrains
The technology inside the Megane Hatch E-Tech Plug-In Hybrid has been developed using expertise gained through Renault's Formula 1 involvement.
In the New Megane Hatch E-Tech Plug-In Hybrid an efficient 1.6-litre petrol engine is combined with two electric motors. The petrol engine provides 90hp whilst the electric motor contributes 65hp.
The system is able to effortlessly switch between petrol and electric power when needed, based on factors such as road conditions - and will always opt for the most efficient option.
The vehicle is able to achieve a fuel economy of up to 235.4mpg whilst emitting just 28g/kg of CO2 (WLTP).
The Megane Hatch E-Tech Plug-In Hybrid has a top speed of 109mph and can accelerate from 0-62mph in 9.4 seconds – meaning performance has not made way for efficiency.
With a 30-mile all-electric range, the Megane Hatch E-Tech Plug-In Hybrid is able to complete most typical daily journeys using electric power alone. Plus, it's possible to charge the battery from 0% to 100% in just three hours using a Type 2 charger.
Consumers can have confidence that Renault know what their doing when it comes to electrified vehicles, after over ten years working with the technology. The Renault Zoe revolutionised the electric market, won numerous awards, and held the title of top-selling electric car in Europe over the past decade. If that doesn't help convince you, the Megane Hatch E-Tech Plug-In Hybrid will come with the added peace of mind of an 8-year/100,000-mile battery warranty.
So, if you're looking for a smart, dynamic and efficient hatchback– the Renault Megane Hatch E-Tech Plug-In Hybrid could be the perfect choice. It's is available to order now, with first customer deliveries expected later in 2021.
Contact Your Local Renault Dealer