Mazda MX-5 parade breaks record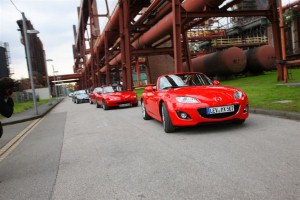 A fleet of Mazda MX-5 cars has smashed a world record.

On September 18th, 459 MX-5s formed a continuous parade of vehicles at the Unesco Zollverein World Heritage site in Essen, Germany, breaking the former record of 249 and entering the Guinness Book of World Records.

Some of the places in the parade were auctioned off on eBay, raising a total of 3,000 euros for SOS Children's Villages.

Over 600 MX-5 drivers from 17 countries applied to take part in the record attempt.

Jeff Guyton, president and chief executive of Mazda Motor Europe, commented after the record attempt: "The excitement leading up to this event was amazing. The event, the parade, the many visitors - the Mazda MX-5 showed today why it's still the world's best selling roadster."

Mazda also gave participating drivers a number of awards, including one for the oldest MX-5 (21 years and two months) and one for the highest mileage (344,624 miles).

Earlier this month (September 6th), Mazda announced that it has sold over 100,000 MX-5 roadsters in the UK since the model went on sale 20 years ago.