MX-5 stands ground against performance cars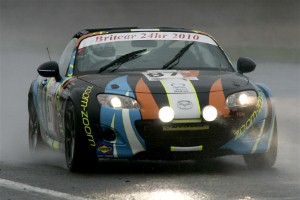 The Mazda MX-5 has stood its ground during a gruelling 24-hour race at Silverstone.

The Britcar 24 Hour race took place over the weekend and saw the modest model pitted against powerful performance cars from Porsche, BMW and Aston Martin.

Driven by five experts on rotation, the two MX-5s were standard models equipped with mandatory safety features such as a roll cage and race seats.

The cars proved effective around Silverstone's 17 corners and curves, eventually ranking 11th in their class and 34th overall after covering over 1,500 miles.

Mazda PR director Graeme Fudge praised the team of drivers for the impressive performance.

"While our lead car failed to finish for factors out of our control, our second car demonstrated the strength, reliability and handling of the MX-5 by finishing the race needing nothing more than fuel and fresh tyres," Mr Fudge said.

The Mazda MX-5 has won a number of awards, including Best Roadster at the Auto Express New Car Awards 2010.