Mazda's Smart City Brake Support standard on new CX-5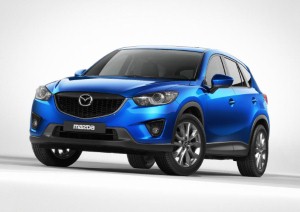 A new safety technology, designed by Mazda, is to be fitted as standard on the new Mazda CX-5 compact crossover SUV, the carmaker has confirmed.

Drivers will have additional safety onboard with the Smart City Brake Support, or SCBS, which aims to help motorists avoid frontal collisions when driving at speeds of between 2.5 and 19mph in cities or when moving through slow traffic.

It involves a laser sensor, which is mounted at the top of the windscreen and detects any obstacle, monitoring the gap and the closing speed. It applies pressure to the braking system if it calculates the car is at a risk of colliding with the obstacle and the driver takes no action.

In addition, the technology ensures a faster response when the driver does apply the brakes and reduces the engine output, meaning that rear-end collisions at low speeds are also minimised.

Following its rollout on the CX-5, which will go on sale in the UK in the spring, Mazda will look to install the safety feature as standard in other models in the future.