MotoGP star Valentino Rossi creates one-off Vauxhall Adam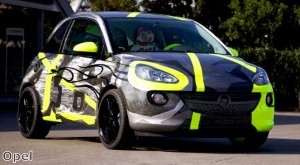 MotoGP star Valentino Rossi has tried his hand at creating some magic on four wheels, rather than his usual two, and teamed up with Vauxhall to design a one-off Adam.

The Italian collaborated with Aldo Drudi, the world famous motorcycle accessory designer, to come up with the concept for the model, which features the bright colours his leathers are renowned for.

Rossi's one-off version will be auctioned for the not-for-profit Meyer Children's Hospital Foundation in December, with all funds going to the charity.

It features large flashes of luminescent yellow on the body and the left-hand side wheels, which contrast with the overall black and grey appearance of the car. A set of 'flames' run away from the wheel arches and down the car's flanks.

The legendary MotoGP champion said that he could not resist the challenges of inventing a completely new car colour scheme.