MX-5 breaks production records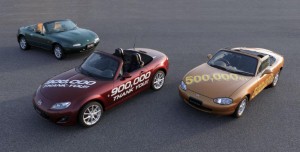 The Mazda MX-5 is poised to set a new Guinness world record for total production.

According to the company, the iconic sports car will pass 900,000 units today (February 4th), almost 22 years since the first MX-5 went on sale in April 1989.

UK motorists have accounted for ten per cent of global sales and 40 per cent of European sales of the popular model, while the car has been named 'best sports car' by the media on various occasions.

Jeremy Thomson, managing director at Mazda UK, attributed the success of the Mazda MX-5 to its lightweight build and affordable price tag.

"The introduction of the third-generation models meant that the MX-5 became much more than a 'sunny weekend' car and the Roadster Coupe, featuring the electric folding roof, now accounts for the majority of sales," Mr Thomson observed.

He added that the MX-5 range now boasts ten different models.

Mazda recently unveiled plans to release a new limited edition Takuya series across its Mazda 2, Mazda 3 and Mazda 6 line-ups.