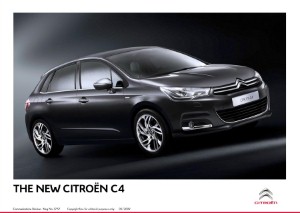 Posted by Craig Salter

The latest incarnation of the C4 from Citroen has been revealed by the manufacturer.

According to the firm, the new Citroen C4 offers "a real positive energy" thanks to its high quality finish, interior space, comfort and style.

The model now has a more distinctive and sculpted image with a purposeful new front end and rear spoiler, while chrome detailing has been added to show the vehicle's premium calibre.

Soundproofing has been used inside the model to allow for greater acoustic comfort, while other new features mean that driver can adjust the display to suit their own colour preferences and even have a massage while driving.

Citroen claims the model's boot offers class-leading space of 408 litres while the car itself has been made longer, taller and wider.

Despite its increased size, the car generates CO2 emissions of as little as 109 grams per kilometre.

The model will be launched next year.

Earlier this year, Citroen announced its C5 range had been updated with the addition of a new re-homologated engine to provide lower emissions and greater fuel economy.