New Citroen E-Dispatch Crowned Van of the Year at 2021 Fleet Awards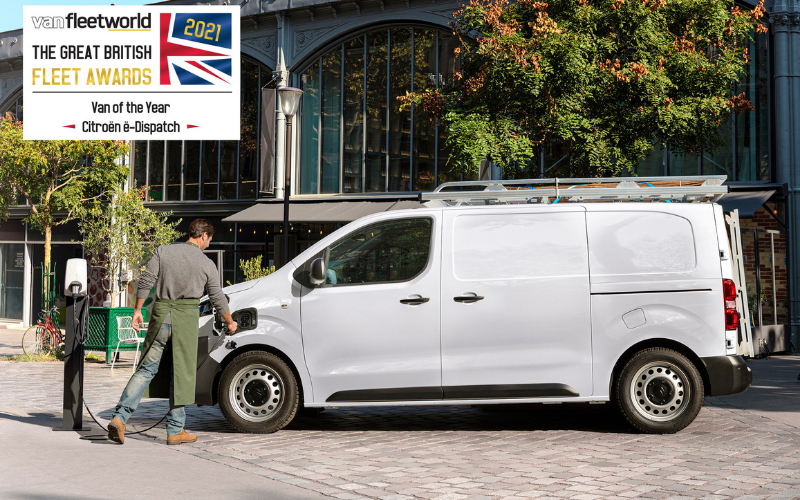 Citroen's new e-Dispatch van has been crowned 'Van of the Year' at the Great British Fleet Awards.
The awards are hosted by Fleet World and the expert panel of judges celebrate 'the best of corporate motoring in the UK', including managers, suppliers and manufacturers.
This year, the judges awarded the Citroen e-Dispatch with the prestigious 'Van of the Year' title, praising the electric van for its affordable price point and impressive electric range.
John Kendall, Editor of Van Fleet World, said: "Recent growth in the electric and hybrid van sector has been impressive even through the pandemic and lockdown. One van stands out clearly from the crowd though, because of its competitive pricing and long-range potential with a WLTP combined range of 143 or 205 miles according to the battery chosen – the Citroen e-Dispatch.
"The e-Dispatch is the value for money champion in the van sector. Its pricing really makes this electric van an affordable alternative to petrol or Diesel power, while its driving range means that operators who may have been put off before could find that an electric van is completely viable for them."
Citroen's goal is to offer electric variants of all its light commercial vehicles by the end of 2021, and the e-Dispatch is one of the first to join the range. Drivers will be able to choose from the 50kWh battery or the 75kWh battery size, with the former delivering up to 143 miles of range and the latter offering 205 miles.
Eurig Druce, Citroen UK's Managing Director, said: "I am incredibly proud of the news that Van Fleet World has named New Citroen e-Dispatch as it's 'Van of the Year', as well as awarding it the 'Best EV Van of the Year' accolade. New e-Dispatch offers real cost benefits for businesses, whilst at the same time contributing to the future environment with zero emissions. This is another impressive result for our first new-generation electric van. Through 2021 our electric van line-up will be completed with the addition of both New e-Relay and New e-Berlingo Van."
If you're interested in the new Citroen e-Dispatch, enquire online or contact your local Bristol Street Motors Citroen dealership today.