New E-Berlingo to Join Citroen's Van Range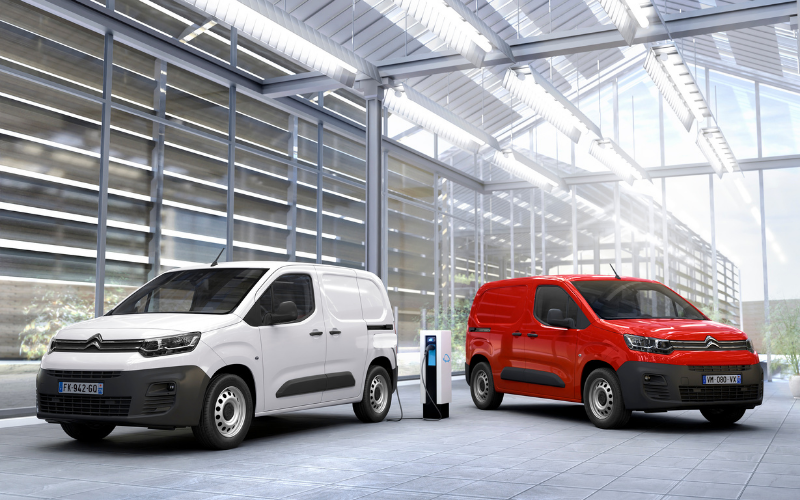 Citroen's award-winning van is now available as a 100% electric option and delivers a real-world range of up to 171 miles.
The new e-Berlingo gives businesses the chance to make the switch to a greener and emission-free vehicle, without compromising on performance or capability.
Vincent Cobee, Citroen Global CEO, said: "The Citroen Berlingo Van is renowned for its practicality and usability. By adopting the best electric vehicle technology, it now offers professional users a zero-emissions solution. With e-Berlingo Van, many business customers will find the ideal partner to accomplish their daily tasks in unrivalled comfort, and with lower running costs, without any compromise in terms of loads and volumes."
Equipped with a 100kW electric motor, the e-Berlingo can reach a maximum speed of 84 mph and offers 3 driving modes – Normal, Eco, Power – to suit your driving environment.
With a maximum payload of 800kg, the e-Berlingo is capable of tackling every working day with ease. Inside, the EXTENSO cabin offers even more storage and modularity, with 3 seats in the front and an adjustable passenger seat, which can be turned into a mobile office desk when folded down or provides more storage if folded upwards. Overall, the cabin area delivers an impressive 113-litres of storage to make sure you can keep your working environment organised and clutter-free.
Citroen has ensured charging fits in with your busy schedule. The e-Berlingo can be plugged in at home or on the go and will reach 80% charge in less than 30 minutes when using a 100-kW charger or 7.5 hours when charging at home.
It also comes jampacked with superb safety features and assisted technology to make all jobs easier. From Grip Control with hill descent assist and active lane departure warning to a reversing camera with surround rear vision and a colour head-up display, the electric Berlingo keeps you safe on every journey and aids you in difficult driving circumstances.
Vincent Cobee concluded: "After e-Dispatch, which was recently voted International Van of the Year, and the forthcoming e-Relay, e-Berlingo Van is an important link in our electric vehicle offensive and a tangible response to the new mobility challenges for all vehicle users."
Set to roll into UK dealerships later this year, make sure to bookmark our news page to be the first to know when the Citroen e-Berlingo arrives.