New Ford Transits head to Hampton Court Palace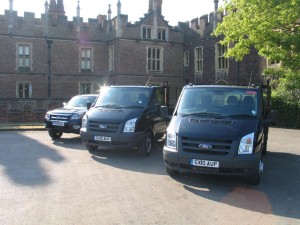 Ford vans are helping workers at one historic royal palace keep the gardens in shape.

Hampton Court Palace has taken delivery of three new Ford Transit vans, each liveried in the official colours of the palace.

Graham Dillamore, gardens and estates operations manager at the popular tourist attraction, spoke positively of the Ford vans.

"We chose the Transit because of its ready availability, ease of maintenance and staff familiarity," he said.

In total, 44 full-time staff could be using the vans on a regular basis, so ease of use may have been a key consideration - and the Ford commercial vehicle is unlikely to disappoint on this front.

Concerns over reliability could be unlikely too: last month a group of Ford commercial vehicles, including Transit vans, made an incident-free 1,000 mile trip to Belarus to help refurbish a village school, providing new medical facilities at the institution.