New limited edition Peugeot 207 Millesim 200 model to launch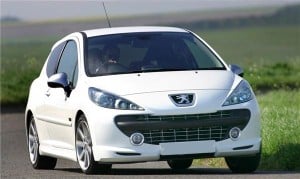 Posted by Sebastian Turkenburg

Peugeot is set to launch a new special edition range of 207s later this month.

The Peugeot 207 hatchback and SW line-ups are to expand with the addition of a Special Edition Millesim 200 version.

On sale later in June, the vehicle is being launched to mark Peugeot's 200th anniversary and will offer vaule for money and enhanced specification levels, the firm reveals.

Models are equipped as standard with features including 15-inch alloys, front fog lights, USB and Bluetooth connectivity and unique badging, with extra elements extending to an antilock braking system, remote central locking with deadlocks, heated door mirrors and a trip computer.

Meanwhile, everyone who buys one of the models during June will receive a free Nokia 5230 smartphone with satellite navigation and in-car mounting kit.

Prices for the models begin at £11,500 and CO2 emissions can be as low as 115 grams per kilometre.

Earlier this year, Peugeot announced a new six-speed manual gearbox and Euro 5 HDi engine for its 207 model.