Order Books Are Now Open for the New Citroen C4 and e-C4 - 100% Electric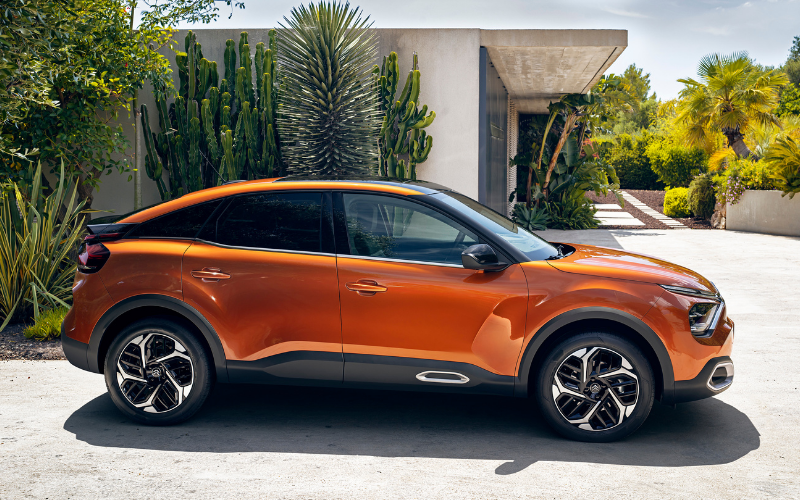 UK orders are now being taken for the New C4 and e-C4 – 100% Electric after Citroen announces prices and specifications.
The all-new e-C4 starts from just £29,180 after the Plug-in Car Grant, whilst the new C4 starts from £20,990. Both are available to order now and first customer deliveries are expected to commence at the beginning of next year.
Citroen has also unveiled the specifications of its new model, which sports an assertive style and a bold identity.
Let's take a closer look.
New Citroen C4 and e-C4 – 100% Electric Specifications
The New Citroen C4 and e-C4 – 100% Electric are set to be big contenders in the compact hatchback market. Boasting a dynamic design with SUV styling, the new C4 range is designed to enhance performance, whilst making every day driving practical and manageable.
Customers will have an impressive 31 body colour combinations to choose from and will benefit from the sleek V-shaped LED lighting, which will illuminate the darkest of roads.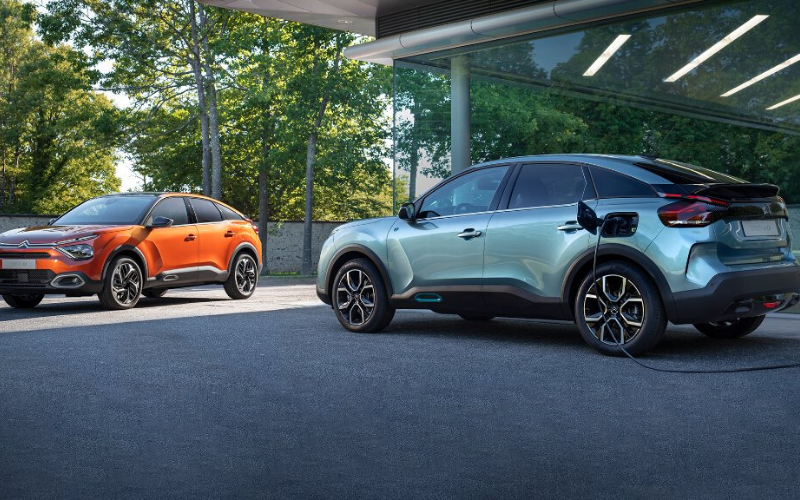 Inside, the brand has developed and utilised the Citroen Advanced Comfort programme to maximise comfort for all drivers and passengers. The suspension system, with Programme Hydraulic Cushions, comes as standard across the range and works to make every journey smooth and comfortable, even on the bumpiest of roads. The seats have also been manufactured with high density foam as standard, to ensure everyone can sit back and relax in style.
As for the interior cabin space, the new C4 and e-c4 provide the 'best in class' rear knee room and plenty of storage compartments to store devices and journey essentials neatly away. It's spacious, comfortable and practical for everyday driving, making it a great vehicle for a range of lifestyles.
New e-C4 - 100% Electric Performance
The new e-C4 – 100% Electric is equipped with a 50kWh lithium-ion battery and delivers an impressive range of up to 217 miles.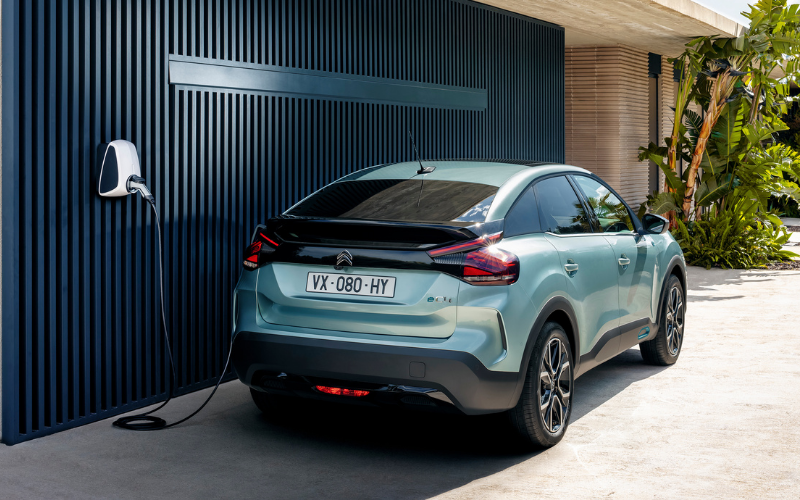 A home charging type 2 cable comes as standard and will recharge the e-C4 to 100% capacity in 7hrs 30mins. However, it is also compatible with a CCS rapid charger and can reach 80% charge in as little as 30 mins.
New Citroen C4 and e-C4 – 100% Electric Trim Levels
The new C4 is available in four trim levels – Sense, Sense Plus, Shine and Shine Plus – and the e-C4 is available in three – Sense Plus, Shine and Shine Plus.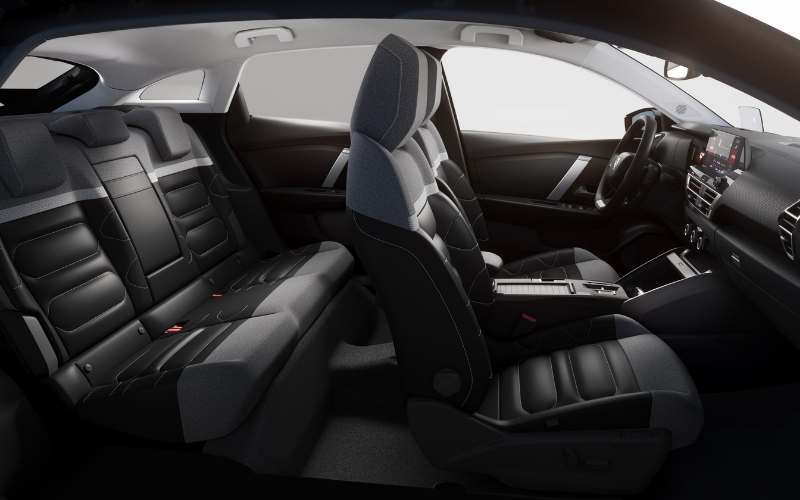 Let's take a look at what each trim level offers.
Sense
As standard, sense models feature an array of fantastic exterior and interior features including, LED headlights, V-shaped daytime running lights, fog lights, 18-inch alloy wheels and a 10-inch digital touchscreen with Apple CarPlay and Android Auto.
Citroen's Standard Safety Pack is also included and features state-of-the-art safety systems such as, Active Safety Brake, Speed Limit Information, Lane Keeping Assist and Driver Attention Alert, to make every journey safer.
Sense Plus
As well as the great features included in the Sense trim level, Sense Plus comes with more great technology and design elements for a first-class drive.
From LED interior lighting and electrochrome auto-dimming rear-view mirror to rear parking camera and electrically folding door mirrors, driving is made more relaxing and easier with the Sense Plus model.
Shine
Sporting dark tinted rear windows, keyless entry, automatic high beam headlights, and front and rear parking sensors, the Shine trim level is sophisticated and intelligent.
The e-C4 Shine model also features a heated steering wheel to add a touch of warmth to those colder mornings.
Shine Plus
Shine Plus is the highest trim level and offers a great deal of brilliant tech advancements for the ultimate luxury experience.
The cabin is optimised with 'Hype Black' interior ambiance, black 'Siena' leather and textile upholstery and intricate 'Zephyr Grey' stitching, which bodes a real elegant touch and is accompanied with heated front seats and wireless smartphone charging.
Orders are now being taken and deliveries will begin early next year, with prices starting from £20,990 for the C4 and £29,180 for the e-C4 – 100% Electric.
Enquire today about the New C4 and e-C4 – 100% Electric