Peugeot to launch first ever diesel hybrid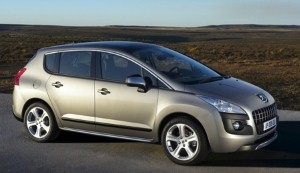 Peugeot is poised to release the world's first diesel hybrid vehicle.

Featuring Hybrid4 technology, the Peugeot 3008 Crossover will be the first diesel full hybrid model on the market when it enters production in spring 2011.

The model combines efficiency and high performance with driveability and comfort, also allowing the driver to choose between zero emissions, four-wheel drive, auto and sport modes.

Its silent operation and CO2 emissions of 99g per km could appeal to drivers looking to go green, while the new car can achieve fuel efficiency of 74.4mpg.

Peugeot states that the 3008 Crossover will boast "unique versatility and safety".

"Peugeot's choice of the diesel hybrid demonstrates that it is possible to combine uncompromising environmental demands with driving experiences not previously available in a hybrid vehicle," it adds.

It roomy interior and 420-litre boot capacity could also entice motorists in the UK in search of an alternative vehicle.

Meanwhile, Peugeot is offering a range of deals on new cars purchased in September in conjunction with the launch of the new '60' registration plates.