Peugeot announces September sales offer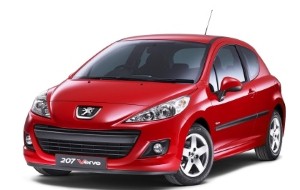 Peugeot has announced a range of sales offers to coincide with the release of the new '60' registration plate next month.

The Just Add Fuel promotion includes insurance cover, servicing, warranty and roadside assistance for three years and applies to all of the manufacturer's models.

Drivers over the age of 21 can get themselves a new Peugeot 107 Millesim for just £197 per month, a massive saving when compared to the average price of insurance cover alone.

Others could be enticed by the offer of the Peugeot 207 hatchback, 207 SW or 207 CC, all of which are available at 5.9 per cent APR for between 25 and 37 months with deposits of up to 40 per cent.

Meanwhile, the practical Peugeot 3008 Crossover, recently named What Car? Car of the Year and Best Crossover, is available at 2.5 per cent APR for four years with a deposit of 25 per cent.

The manufacturer states: "Just Add Fuel - the only comprehensive single payment programme - as well as other great offers, means buying a new '60' plate Peugeot is the care-free option this summer."

All models sold under the scheme will also come with a free Nokia smartphone with satellite navigation.