PFA and Bristol Street Motors help family meet football hero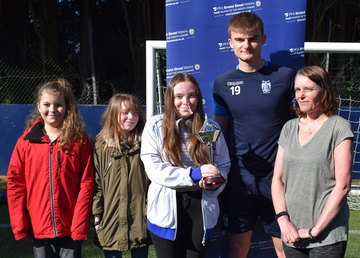 A lifelong Bury football fan and her family had the chance to meet their hero, thanks to the Professional Footballer's Association (PFA) and Bristol Street Motors.
Lorraine Fox, who is Vice Chair of the Forever Bury FC Supporters Trust, presented George Miller with the coveted PFA fan award. Lorraine has been going to matches since the age of four and has carried on the tradition with both of her daughters, Amie and Xara. She has been taking them to the Gigg Lane stadium to see games since they were young children.
Bury FC Forward, George, re-joined the Shakers in January this year, on loan from Middlesbrough for the rest of the season. After hearing about the PFA Awards from her children, Lorraine voted for George at their request.
Lorraine said: "The reason this opportunity came about is because of my daughters. They wanted me to vote for George as he is one of their favourite players and it is easy to see why - he is young, enthusiastic and is making a great impression at Bury FC. He definitely deserves the award and I am overjoyed that the girls and I have been able to present him with it.
"We were very excited about the day beforehand and it did not disappoint. We all really enjoyed ourselves and would like to thank everyone for the opportunity."
Liz Cope, chief marketing officer at awards partner Vertu Motors plc - parent company of Bristol Street Motors - added: "We are delighted to continue to support the PFA Bristol Street Motors Fans' Player of the Month award. Our dealerships across the country take pride in supporting their local communities, with everything from grass roots football to local charity support.