PFA and Bristol Street Motors help fans meet Mo Salah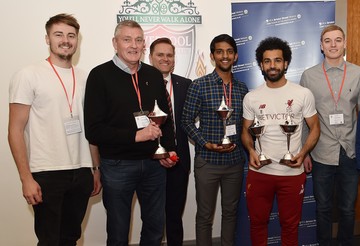 The Professional Footballers' Association and Bristol Street Motors joined forces to make two passionate Liverpool fans' dreams come true.
Hamza Lakhanpal, 25, from London and Peter Maughan, 60, from Worksop, travelled to meet Mo Salah at Melwood Training Ground, to present him with his fourth fan award since November last year.
The Liverpool forward, who scored 31 Premier League goals throughout the season, also won the Professional Footballers' Association Player of the Year award for 2017-18.
Peter Maughan, who has been supporting Liverpool since the 1960's, went to his first Anfield game in 1972 and has been going to games regularly ever since. He also took his sons Tom Maughan, 23, and Kieran Maughan, 20, along to meet Mo Salah.
Peter said: "When I received the email saying I'd won it was a total surprise, I thought it was a hoax! It was a great privilege and honour as I've never been to Melwood before, and to meet Mo Salah, who's probably been the best player this year, has been incredible."
Hamza added: "To be honest I wasn't much of a football fan until the Istanbul final a few years ago, but watching that game made me grow a huge passion for Liverpool FC. Since then I haven't looked back, and it's a patch on my sleeve that'll never go away.
"I knew the player of the month award was happening, and when I saw it advertised, I went straight onto the Bristol Street Motors site, signed up and voted for Salah. I got the email saying I'd won the chance to present the award to him and I couldn't believe it – an out of this world opportunity.
"It's been spectacular and a once in a lifetime opportunity to meet one of the greatest players in football right now. I've met some lovely people and had a great time!"
Liz Cope, chief marketing officer at awards partner Vertu Motors plc - parent company of Bristol Street Motors - added: "We are delighted to continue to support the PFA Bristol Street Motors Fans' Player of the Month award. Our dealerships across the country take pride in supporting their local communities, with everything from grass roots football to local charity support."