Premier League PFA Bristol Street Motors Fan's Player of the Month for September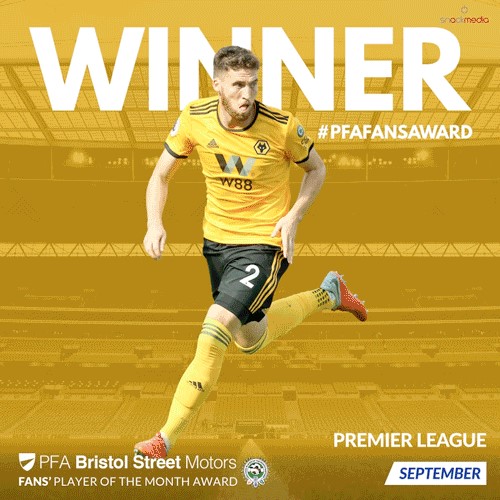 Matt Doherty has been voted the Premier League's PFA Bristol Street Motors Fans' Player of the Month by football fans across the country.
In a vote run by fan engagement experts, Snack Media, the impressive Irish defender won by a landslide – he received 39% of the vote for September, with Chelsea's electric forward, Eden Hazard, taking second place.
In the first of four divisional votes carried out over seven days via Snack's digital and social networks and supported by top flight football clubs and press, it was clear that Doherty's strong performances over the last month – including two assists and an average of 2.1 clearances per game for a team who got promoted from the Championship last season and sit seventh with four wins and a draw last month - has resonated not just with Wolves fans, but with supporters of all teams.
The full list of contenders from the final shortlist polled were as follows:


Matt Doherty (Wolverhampton Wanderers) - 39%


Eden Hazard (Chelsea) – 26%


Alexandre Lacazette (Arsenal) – 18%


James Maddison (Leicester City) - 8%


Sergio Aguero (Man City) - 5%


Raheem Sterling (Man City) - 4%
The Championship vote opens at 11 am on Monday 8th October. To vote CLICK HERE