Record-breaking Fiat Panda returns home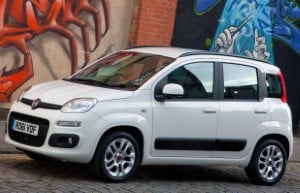 The Fiat Panda has become well known for being a reliable and sturdy machine, proven adequately by one vehicle which was driven non-stop from Cape Town to London recently.

It was guided by adventurer Philip Young and his co-driver Paul Brace, who managed to break the outright world record, and the vehicle has now been returned to the company.

However, far from being retired, the car will now be taken around the world to shows and events in an effort to showcase just what an astounding vehicle it is.

The Panda was taken on a 10,000-mile journey in a record-breaking ten days, 13 hours and 28 minutes, with Philip, in return, being given a new Fiat Panda Trekking to use for speaking engagements and public appearances.

In order to complete the journey in under the targeted 11 days, Philip and Paul were required to average around 1,000 miles a day at a speed of 40 mph in the 0.9-litre TwinAir-engined city car.

What makes it more remarkable is that the vehicle only came with standard fittings and pieces of kit. Only a few vital modifications had been added.

These included an extra fuel tank, sump guards, stronger springs and shock absorbers as well as the air intake being moved to the top of the engine bay.

On the journey, the pair, in their trusty Panda, trekked across South Africa, Botswana, Zambia, Tanzania, Kenya, Ethiopia, Sudan, Egypt, Libya and Tunisia before crossing the Mediterranean and journeying through Italy and France to London's Hyde Park.

Philip said that he was more than happy to receive a Panda Trekking in return, having experienced the benefits of the Panda on the journey.

"I am delighted to have the use of a new Panda Trekking," he said.

"I have spent a lot of time sat behind the wheel of a Panda recently, and I'm happy to carry on like that. The Panda we drove from Africa was amazing - the car never missed a beat despite the conditions."