James Martin praises Fiat Panda 4x4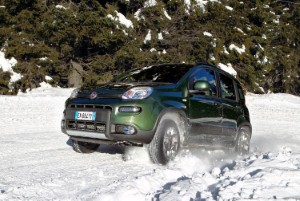 Motoring columnist James Martin has said he is a fan of the Fiat Panda 4x4's agility in a positive review.

Writing in a review for the Daily Mail recently, James said that he was genuinely impressed by the Panda's ability to not only perform well in inner-city environments but also include off-road credentials too.

As well as being nippy and nimble enough to navigate roundabouts and tricky parking situations in cities and towns, James said the Panda was more than capable of dealing with the snowy conditions of the countryside.

This, primarily, he claimed, is because of the front wheel drive system as well as the mud-and-snow tyres that come as standard.

The Panda comes with either a 1.3-litre turbodiesel engine or its 0.9-litre twin-cylinder petrol counterpart with around a thousand pounds the difference between the two.

James, who had the former, said this was ideal as it had plenty of torque to get it out of any difficult situations or terrains.

Indeed, so impressed was he, that he claimed many Italian farms use Panda 4x4s as their main vehicle for day to day activities.

"I've seen first-generation models (this is the third) from 1983, full of goats and still going strong," he wrote.

"Another reason I was looking forward to it [reviewing the car] is that I don't often get a chance to properly test off-roaders, but when the Panda 4x4 turned up it had been snowing for a couple of days. (In March – bad luck, daffodils.)

"Being small and light, the Panda can pull itself out of most trouble you're likely to come across in this country."

In terms of drive quality, James was keen to praise the gear box which he said was very easy to use, adding that the car had "a light clutch to go with the light steering".

He also explained that the gear changes are not only simple but well-spaced too, which will surely appeal to the majority of motorists.