Renault provides vans for Age UK fleet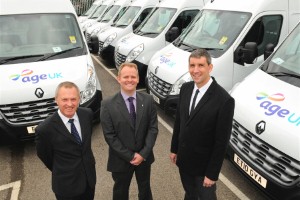 National charity Age UK has taken delivery of 16 new Renault Master Vans.

The vans will be used by the organisation to collect donations from homes and deliver stock and were chosen after being assessed for reliability, spaciousness and efficiency.

Vehicle procurement and fleet manager at Age UK David Coeshall praised the model for its comfort, easy driving and redesigned appearance.

Darren Payne, Renault UK director of fleet and commercial vehicle operations, added that it is a "real privilege" for the company to be providing cars for an organisation that supports people in later life.

"We hope the New Master can help thanks to its huge capacity and incredible fuel economy in its class, achieving up to an impressive 870 miles on a single tank," Mr Payne added.

The fleet will connect the Age UK central warehouse in Warrington with its network of charity shops across the UK.

Renault's Master Van features a 2.2 tonne payload and was released in May this year.