Renault releases Clio Gordini 200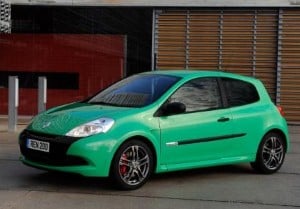 Renault has confirmed the release of its Clio Gordini 200.

Available to order now for delivery next month, the vehicle could appeal to fans of Renault cars in search of a sporting model.

Featuring the famous Gordini stripes, the car is based on the Renaultsport 200 and includes a high-performance 2.0-litre engine that can generate 200hp.

The Clio Gordini 200 boasts a Renault Malta Blue metallic finish with twin racing stripes, as well as a white F1-style bumper blade and 17-inch Gordini alloy wheels.

Renault states: "The wizards at Renault Sport Technologies have been lauded many times for their development work on Clio Renaultsport, which the motoring press has acknowledged as the best car in its class."

Other features that might attract customers to the vehicle include its Perfohub front suspension, Brembo callipers and radio-CD player with Bluetooth connectivity and USB port.

The new model is restricted to a production run of just 500 vehicles at an on-the-road price of £19,650.

In related news, the Renault Clio model celebrated its 20th birthday in March this year and the company released a special edition Clio 20th model to celebrate the occasion.