Renault showcases new ZE models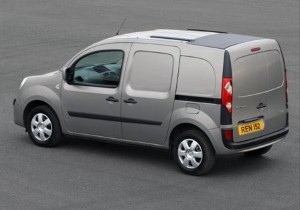 Fleet managers were given the chance to test out two upcoming zero emission models from Renault this week.

The Kangoo Van ZE and the Fluence ZE saloon were put through their paces by visitors at the Fleetworld Electric Vehicle Showcase at the National Motorcycle Museum in Birmingham on a dedicated four-mile test circuit.

Darren Payne, Renault UK Director of Fleet and Commercial Vehicle Operations, said the firm is "very excited" to be releasing the new vehicles.

Commenting on the showcase in Birmingham, he added: "Drivers rated the performance and lack of noise very highly and were particularly impressed with the comfort, quality of finish and the fact that they both drive like conventional diesel and petrol-powered models."

The Fluence ZE is a four-door medium saloon which could appeal to home and business customers looking to make a saving on fuel.

Meanwhile, the Kangoo Van ZE boasts a 650kg payload and a high level of comfort, the manufacturer reports.

Renault was recently named Most Improved Fleet Manufacturer at the Fleet News Awards 2011.