Renault to release Twingo Gordini 100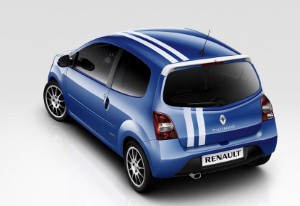 Renault is set to release a new version of its smallest model.

The new Renault Twingo Gordini 100 features a 1.2 turbo control efficiency petrol engine and is aimed at customers looking for a stylish yet affordable compact car.

Following on from the Gordini versions of the Renaultsport Twingo and Clio, the sporty three-door model boasts twin racing stripes and a subtle 'G' badge on the bonnet.

Available in three colours - Malta blue, pearlescent black and glacier white - the Twingo Gordini comes equipped with a radio, CD player, Bluetooth connectivity and auxiliary audio input, as well as air conditioning and 15-inch Turini alloy wheels.

It can also be ordered with options such as polished alloys, climate control, metallic paint and electric panoramic sunroof.

"Overall, the Gordini line-up has enabled Renault to extend its reach to a younger, more style-conscious audience, with Twingo Renaultsport's market share up by five per cent in the 30 to 40 age group," the company reports.

Earlier this month (November 1st), Renault announced plans to release a new version of its large Espace family car, with new technologies and a lower price tag.