Renault to unveil new concept car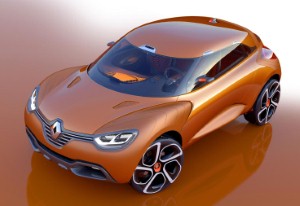 Renault has released details of a new concept car ahead of its unveiling at the Geneva Motor Show next month.

Striking a delicate balance between sporty performance and everyday practicality, the Renault Captur is the second concept model to adhere to the manufacturer's new design strategy, following the two-seater DeZir, which was showcased at the 2009 Frankfurt Motor Show.

The company highlights the smooth, warm style of the Captur, as well as its 22-inch black and white wheel rims.

Commenting on the initial inspirations for the car, exterior designer Julio Lozano told Renault: "I began with the image of a sprinter on the starting blocks, his muscles tensed, and the energy unleashed when the starting pistol is fired."

Colour and trim designer Kana Watanabe added that the Captur "radiates warmth and dynamism".

Renault recently re-launched its Va Va Voom advertising campaign to promote the new Clio, with backing from Thierry Henry, Dita Von Teese and Rihanna.