The Citroen Miniatures Catalogue Is Joined by The New C4 And New E-C4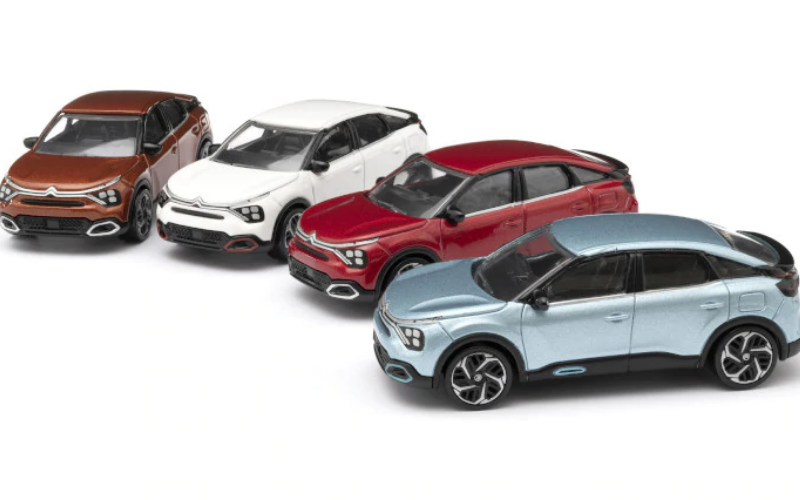 Citroen have launched the New C4 and New e-C4-100% electric - continuing to follow its all electric philosophy, by introducing an electric option to its C4 hatchback range.
The New C4 and e-C4-100% electric will take the spotlight in the second half of 2020, with orders opening in the autumn. However, they are already available in miniature from the Citroen Lifestyle online boutique, in scales of 1/43 and 1/64.
Two colours are available at 1/43 for the New C4 and e-C4-100% electric: Caramel Brown and Iceland Blue. In 1/64 scales, there are four colours available: Elixir Red, Polar White, Iceland Blue and Caramel Brown.
Just like the vehicles themselves, the miniatures stand out with their elevated and assertive postures. The body shape combines elements of elegance and dynamism of a hatch back, whilst subtly complimenting certain SUV standards, which results in an added strength of character. Collectors will be able to appreciate the attention to detail brough to this reduced size portion of the car.
Here at Bristol Street Motors, we will always keep you in the loop. What we know so far is that the new C4 and e-C4 are set to go on sale in Autumn later this year.
We'll release more updates on the upcoming Citroen C4 and e-C4, such as pricing, as and when we can... so stay tuned!
In the meantime, if you'd like to learn more about hybrid and electric vehicles here at Bristol Street Motors, click the link below:
Learn More About Electric Vehicles
Alternatively, if you'd like to view our current deals on the new Citroen range, click the link below: