The Skoda Superb Is Named Best Estate Car At What Car? Awards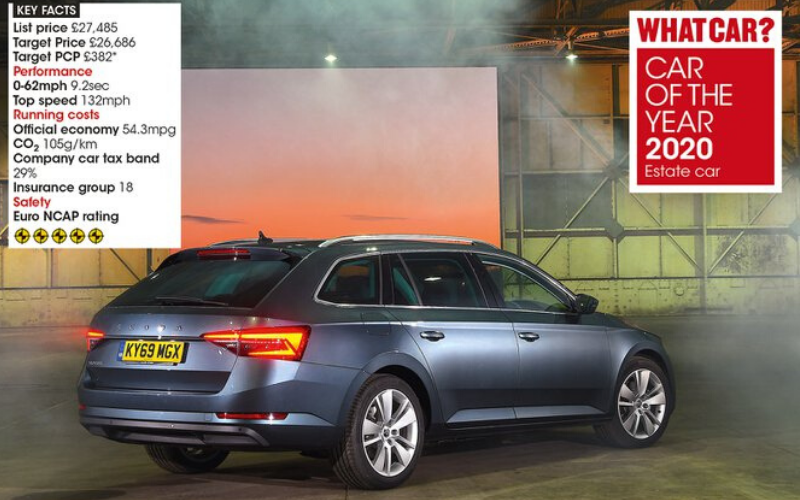 At the annual What Car? Awards, the Skoda Superb was named the Best Estate Car of the Year!
The Skoda Superb has had a makeover and it's bigger, better and more brilliant than ever. Including a new grille, new LED headlights and a new bumper, it's not just the exterior that has been pimped up!
Inside, the Superb still resembles the same brilliant interior of other generations, with a few slight tweaks to really perfect the Skoda Superb. The soft-touch materials combined with the contrast stitching really gives the Superb a classy touch, and with an array of hidden storage compartments, it's practical as well as stylish.
Size-wise, it's difficult to find any other car on the market that matches the Skoda Superb. The design of the estate incorporates a wide, spacious interior, allowing for plenty of legroom to ensure a comfortable journey for everyone.
As for the boot, this is what really makes the Superb stand out from the crowd – it's enormous! There are also great features to make transporting luggage a whole lot easier, including hooks to hang up shopping bags, or that all-important suit, and side compartments that open up to reveal even more hidden compartments to store more items. The rear seats also fold down to create more luggage space. There is even a rechargeable touch included, which is great for aiding you when you're unpacking in the pitch black.
Overall, the Skoda Superb is deemed exceptional value for money. It's practical, spacious and stylish, being an all-rounder in everything a customer looks for in an estate car. Perfect for families or for business trippers, it's really no surprise that the Skoda Superb has been awarded the Best Estate Car of the Year.