The Vauxhall Corsa-e Has Been Named The Sun Car of the Year 2020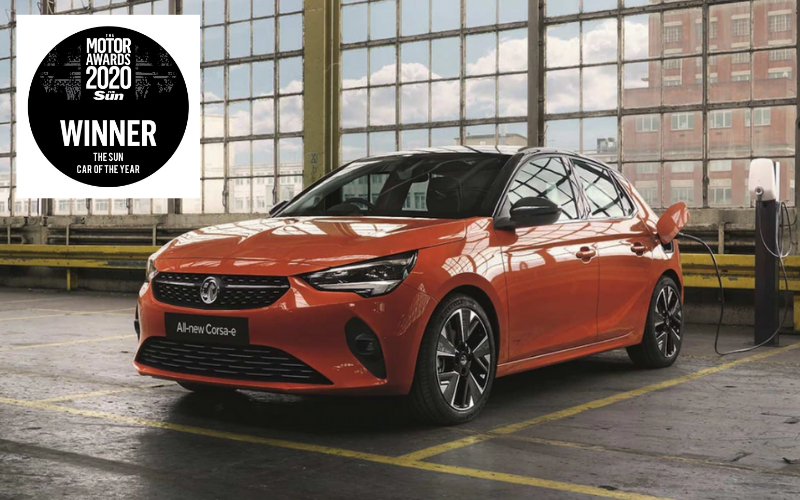 The all-electric Corsa-e has been named The Sun Car of the Year at the 2020 News UK Motor Awards.
The Corsa has been a firm favourite with many UK drivers since it hit UK roads back in the 80s, and now, the new electrified model brings new elements of fun driving dynamics, great connectivity and a stylish exterior for motorists to enjoy.
The Sun judges praised the Corsa-e for its impressive range, affordability and simplistic yet striking design, making it a great EV for those looking to make the switch.
Rob Gill, Motors Editor at The Sun, said: "The Vauxhall Corsa-e is the obvious choice for Brits ready to switch to electric. It's fun, easy, smart and guilt-free with a real-world range to suit most people. An outstanding all-round package and worthy winner of The Sun Car of the Year 2020."
Equipped with a 50kWh battery and a 100kW electric motor, the Corsa-e delivers a generous range of up to 209 miles, exceeding the daily average miles of most drivers. When plugged into a rapid charge station, it can reach 80% charge in as little as 30 minutes, making on-the-go charging quick and easy.
Commenting on the success of the Corsa-e, Stephen Norman, Vauxhall's Group Managing Director, said: "All of us at Vauxhall Motors are thrilled that The Sun, the largest circulation paid newspaper in the UK, has honoured our all-electric Corsa-e as their Car of the Year."
The all-new all-electric Corsa-e is available to order now, with prices starting from £27,665 after the Plug-in Car Grant.
Order the all-electric Corsa-e today