Vauxhall previews bespoke Corsa ahead of bingo event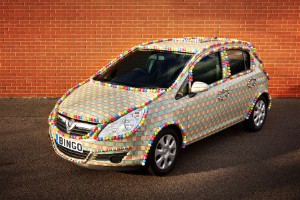 Vauxhall has created a bespoke Corsa model for a special event set to take place next month.

Following the success of previous events such as Vauxhall Ice Skate and Vauxhall Motors Bowling Club, the manufacturer is set to host Vauxhall Motors Bingo Club, with a very special prize available to one lucky winner.

The company has created a bespoke 'Bingo Ball' Vauxhall Corsa worth over £10,000, which will be up for grabs as the jackpot prize and has been previewed ahead of the event.

It features a pastel bingo sheet design with over 2,000 bingo balls attached by hand.

Set to take place at the Monastery in Manchester on December 1st, the bingo night is free to attend but entrance is strictly limited to 500 people.

Those wishing to attend can contact the company for tickets.

Meanwhile, Vauxhall announced last week (November 18th) that the Vauxhall Corsa aftersales range now includes five double-spoke 17-inch alloy wheel designs.