Wolves' Adama Traore Wins Bristol Street Motors Fans' Player of the Month Award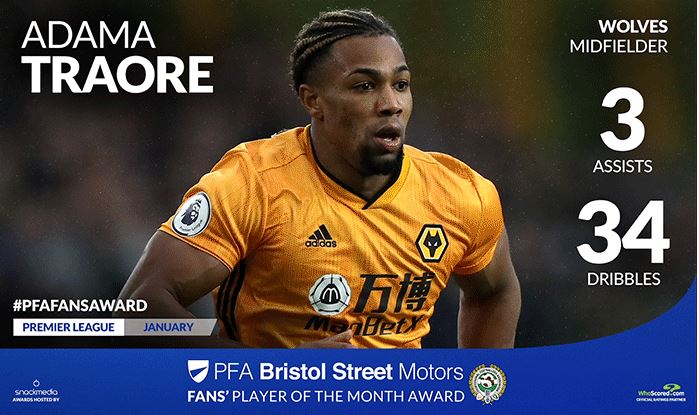 Wolves' Adama Traore Wins Bristol Street Motors Fans' Player of the Month Award
Adama Traore has been voted the Premier League PFA Bristol Street Motors Fans' Player of the Month by football fans across the country.
In a vote run by fan engagement experts, Snack Media, the Wolves winger won by a landslide, receiving 45% of the vote for January with Liverpool's number one Alisson taking second place.
In the first of five divisional votes carried out over eleven days via Snack's digital and social networks and supported by top flight football clubs and press, it was clear that the Spaniard's strong performances over the last month – in which he provided three assists - has resonated not just with Wolves fans, but with supporters of all teams.
The full list of contenders from the final shortlist polled were as follows:
- Adama Traore (Wolves) - 45%
- Alisson (Liverpool) – 23%
- Nick Pope (Burnley) – 11%
- Sergio Aguero (Manchester City) – 9%
- Ricardo Pereira (Leicester City) - 7%
- Gabriel Jesus (Manchester City) – 6%
The Championship vote opens at 11am on Monday 3rd February. To vote go to: