4 Things You Probably Didn't Know About the Nissan Juke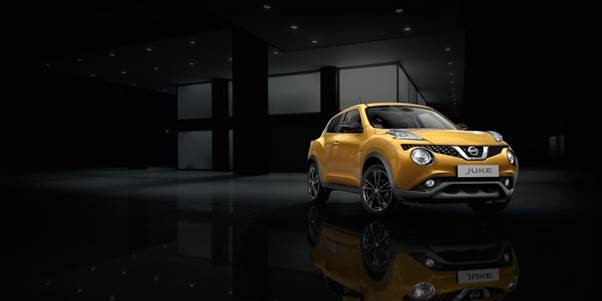 The Nissan Juke is a small SUV that is often credited for kickstarting the trend for striking small cars, daring to be different from the crowd. If you think you know everything you need to know about the Juke, think again - this SUV has plenty of surprises up its sleeve and we're here to tell you all about them.
1. The interior is motorcycle inspired

The Nissan Juke is out to prove a point, and that point is that you'll have an exhilarating ride waiting for you the moment you step into the car. The motorbike inspired interior begins with circular gauges reminiscent of top-end motorbikes. These can then be customised with contrasting stitching with a choice of colours depending on the grade you decide to go for. The centre console takes inspiration from a motorbike's fuel tank; you'll notice the striking lines and hooded gauges, giving the car a much sportier feel so you're always reminded that the Juke can push itself to the limit for your exhilaration. It doesn't stop there either - opting for the Juke's Comfort Pack will give you a power panoramic sunroof, something that will come in handy during those hot summer weather.
2. You can choose between 8 trims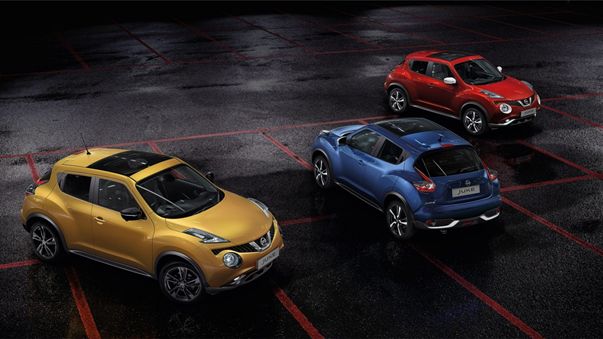 The Nissan Juke understands that a car needs to feel like your own, and that's why it comes in a variety of trims - 8, to be exact. These 8 trims can help you to define your style and your ride, from clever styling options to infotainment extras.
The entry-level Visia gives you the essentials, from 16" Alloy wheels to LED Daytime Running Lights.
Step up to the Acenta, which will also give you Bluetooth, cruise control, the Nissan Dynamic Control System, and steering wheel audio controls. This would be best for the modern day driver, who needs a phone on charge with the USB ports or an infotainment system that does more.
The N-Connecta is the next step up, and is perfect if you want to feel more of a connection to your infotainment system - additional features include a Nissan Design Studio Personalised Interior Pack, giving you a choice of colours for your interior from the centre console to the door trim finishers. For a little extra, you could upgrade to the N-Connecta with Exterior+ Pack, giving you the ultimate control over your Juke's design.
The Envy is aptly named, adding Xenon headlights, Tokyo Black front and rear bumper finishers and headlamp inserts, 18" alloy wheels and a Detroit Red interior pack - the perfect car for those who want to be seen, heard and envied on the road.
The Tekna trim is the ideal solution for those who want optimum tech and the most excitement and safety out of their car. In addition to the features you'll receive with the N-Connecta grade, you'll also enjoy premium leather seats with heating for the front two, Safety Shield Technologies, and 17" Urban alloy wheels. A grade of the Juke that is worthy of taking you to your destination in confidence. Upgrade to the Tekna Exterior+ Pack, and you'll be able to personalise your car further with additional exterior personalisation options. One further push to the Tekna Pulse will put you on the verge of luxury, with focal speakers, luxury floor mats and sports pedals.
The final and ultimate trim is the Nismo RS. In addition to what the Tekna grade will give you, you'll also be treated to 18" NISMO alloy wheels, sports suspension and steering set up, NISMO logo sports seats, upgraded brakes and more.
3. You have a fun choice of engines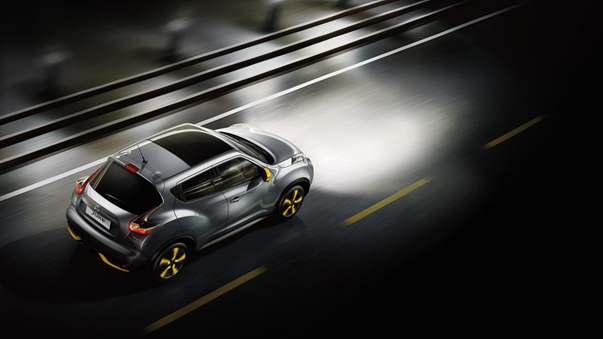 Designed to feel like you're pushing yourself to the limit of what your car is capable of, the Juke comes in a variety of petrol engines. The diesel engine is a 1.5-litre, a perfect choice for those of you who use your car for long commutes and quiet engines. If you take more frequent short journeys to more urban city areas, you're going to enjoy the fun and exciting feel of a 1.6-litre engine, or the turbocharged 1.2-litre petrol.
4. You can choose from 9 colours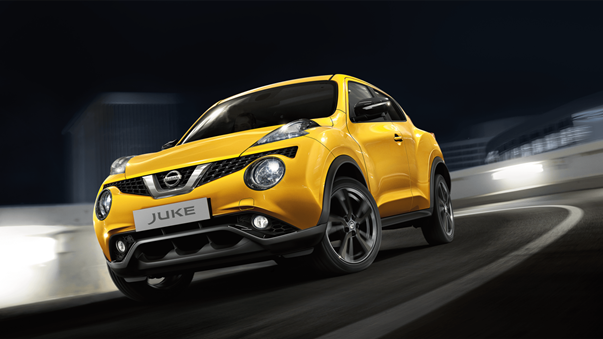 Customising your Juke is exactly what Nissan wants you to do, and with that comes a variety of different shades, for a little bit extra. The different shades you'll be welcome to try include:
'Flame Red' - this one is the standard and doesn't cost any extra. As vibrant and daring as the name sounds, this colour will get you seen on the road.
'Arctic White' - this shade comes at a little extra but will give those of you who want a clean, sophisticated minimal look to your car a reason to buy the Juke.
'Ford Red' - this metallic shade is subtle but eye-catching. A great choice for those that want a little more of a daring colour scheme in addition to the vibrancy of the red.
'Gun Metallic' - this grey shade is for those of you who think the Juke's design talks for itself. Although not as electric as the other shades, it highlights the Juke's originality in design.
'Pearl Black' - this metallic shade is perfect for those of you who live on the darker side. Easy to spot in daylight and easy to conceal in the darkness.
'Night Shade' - Another metallic, this deep purple will steer your car into the darker side of your car's life in style.
'Blade Silver' - A silver colour that's perfect if you're after a simple colour scheme and want to let the Juke speak for itself.
'Sunlight Yellow' - this recent addition to the Juke's colour lineup gives the ultimate extrovert a reason to choose the Juke as their next car. Outstanding, demanding and vibrant, the Sunlight Yellow is going to make everyone turn their heads in awe.
'Storm White' - This is the only pearlescent option in the range, giving you the ultimate in a white that will surprise passer-bys both on the road and off.
So whether the Juke is a car you're ready to jump behind the wheel of or a car that still intrigues your curiosity, it's a car worthy of a test to feel how unique it really is. Find out more about the Nissan Juke here and give your nearest Nissan local dealership a call for more!