A Video Tour of the All-New Ford Transit Custom Nugget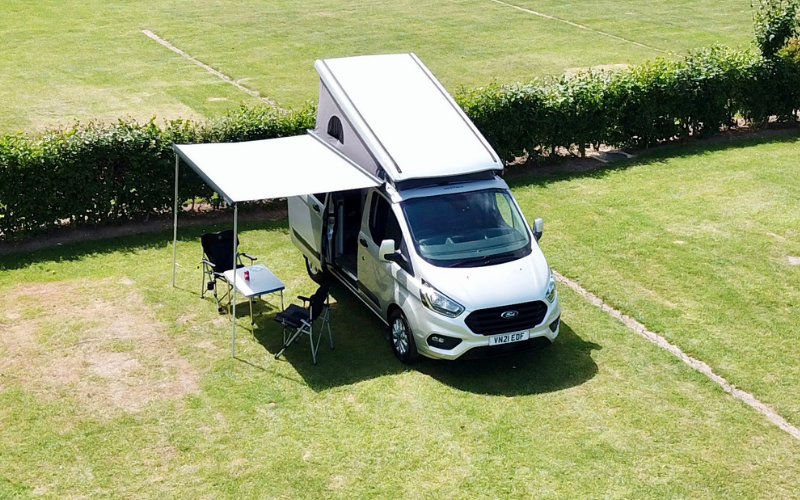 As staycations and holidays closer to home have skyrocketed in popularity, we've taken a look at the All-New Ford Transit Custom Nugget to see what it brings to the campervan segment.
The van comes in either short or long wheelbase form - both models seat five, sleep four and have a decent kitchen area, though the LWB comes with an additional toilet facility. The model we tested was a SWB 2 litre diesel.
The Nugget's name certainly grabs attention, but what can be said about the van itself? Watch the full video tour here:
Exterior
At the front of the van, you'll find the iconic Ford grille, LED daytime running lights and auto cornering front fog lamps which shine in the direction the vehicle is turning.
Trusty front parking sensors coupled with large wing mirrors make parking manoeuvres an absolute breeze, so you needn't worry when pitching up.
The Westfalia awning sits framed to the roof, ready for action when needed – this can be easily deployed using a tool which is conveniently stowed in the rear.
Smart privacy glass runs all along the side of the vehicle to add a real luxury touch, and large side loading doors on each side provide easy access into and out of the vehicle.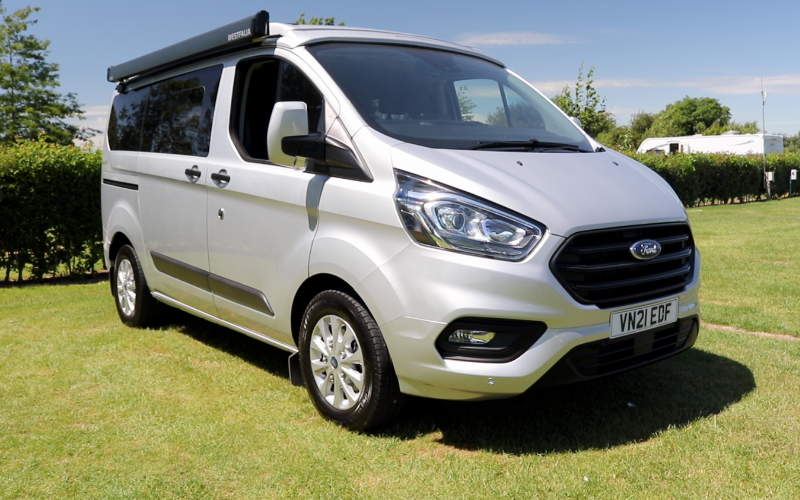 Interior - Front Cabin
Inside the front cabin, there's some excellent features on offer. The 8-inch touchscreen Ford SYNC infotainment system is a real highlight; it's easy to use and has full compatibility with iPhone and Android devices. Multiple cup holders and USB ports are a handy addition to the front cabin too.
When it comes to driving, light steering and smooth gears mean the Nugget handles like a car – it really will provide an enjoyable drive to your next pitch. Plus, Ford's new adaptive cruise control system allows drivers to easily set their speed and distance from the vehicle in front all through controls on the steering wheel.
Interior - Living Area
Entering through the side loading doors will reveal a nicely laid out interior space with plenty of clever storage options.
There are three seats in the rear – something which you won't find in any other campervan from a main dealer.
Two camping chairs are included along with a small table which is cleverly stowed in the tailgate, ready to unclip and set up outside the van once you've settled for the day.
The pop-up roof can be easily raised, and once in place, the area will comfortably accommodate standing adults. The Nugget's well equipped kitchen area features adjustable internal lights, 12V sockets, a gas hob and splash guard, mini fridge and wash basin – all laid out in an intuitive fashion.
Away from the kitchen, the front passenger seat can be rotated to face into the living area and an indoor table can be easily assembled in the centre to create a cosy dining set up. Once finished, this can all be folded away to make way for the first double bed, and the second bed can be effortlessly assembled above this, with the pop-up roof raised.
The Custom Nugget even comes with its own shower head which can be plugged into the back of the vehicle, allowing you to wash away mud and sand after a day outdoors.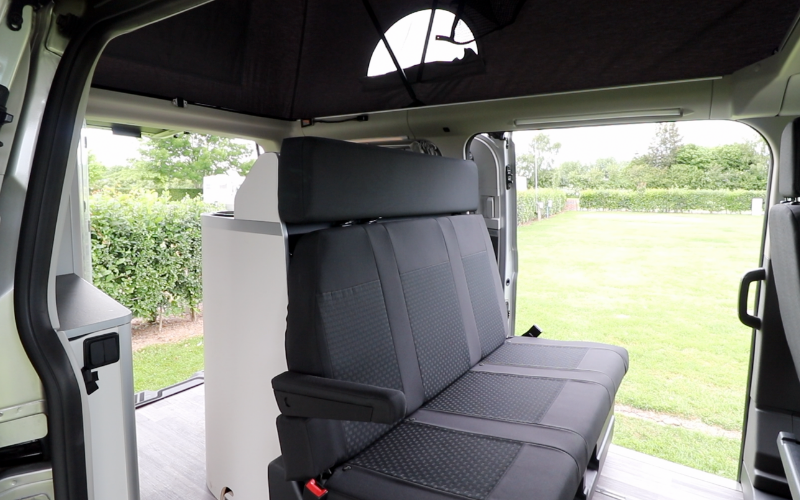 The All-New Ford Transit Custom Nugget is a practical campervan with a well-considered interior and ample kit onboard. If you're looking to explore the great outdoors this year, we'd seriously recommend it. Before you head off on your holiday, be sure to check our Five Things to Pack for Your Campervan Trip to make sure you don't miss any essentials!