Alfa Romeo preparing to return to sports coupe range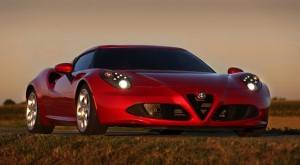 The announcement of the new Alfa Romeo 4C is a signal of intent about the manufacturer's aims to re-enter the sports coupe market.

Alfa has said the new model will provide "pure driving satisfaction" for the customer, both in terms of performance and the feel of the car when driving.

The mid-engine design echoes predecessors like the Alfa Romeo 33 Stradale, while new engine technology and a lightweight frame is expected to deliver an edge when it comes to speed.

In terms of weight, a carbon-fibre shell has been used to limit the body mass to 65kg, while even the glasswork has been slimmed down to cut 15kg of bulk from the vehicle.

Improved handling is achieved by a double-wishbone front suspension and an improved braking system, while unassisted steering with a ratio of 16.2 is expected to enhance the driver experience when it comes to cornering.

Achieving top speeds of 160mph and reaching 0 to 62mph in 4.5 seconds, the car is intended to provide a sports coupe with all the speed and power of a supercar.