Alfa Romeo teases a new car launch for 2013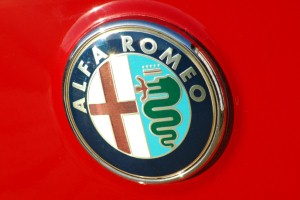 Well-known Italian car maker Alfa Romeo has released a teaser image of a new vehicle launch, which the company claims will change the motoring landscape forever.

Without giving too much away about what it has planned for the months ahead, the firm's new advertising simply shows a central image of a five-spoke alloy wheel.

In the centre of the tyre is Alfa Romeo's instantly-recognisable logo, though the main talking points are the words that accompany the image.

Across the top of the teaser is the claim that "the Alfa Romeo prophecy of 2013 won't disappoint", with the figures of the year styled to look like star constellations.

To further excite fans of the Alfa Romeo name is the quote "behold, the car to end all cars is nigh", which graces the bottom of the advertisement.

Although nothing else features on the teaser image, it is widely rumoured that the graphic points to the imminent launch of the Alfa Romeo 4C sports car.

Previously shown as a concept vehicle back at the 2011 Geneva Motor Show, the motor is set to pack a 1.7-litre turbocharged four-cylinder engine and its weight is limited to little over 1,000kg.