Back Of The Net Or In The Ring - BSM Vauxhall Newcastle Sponsors Local Sports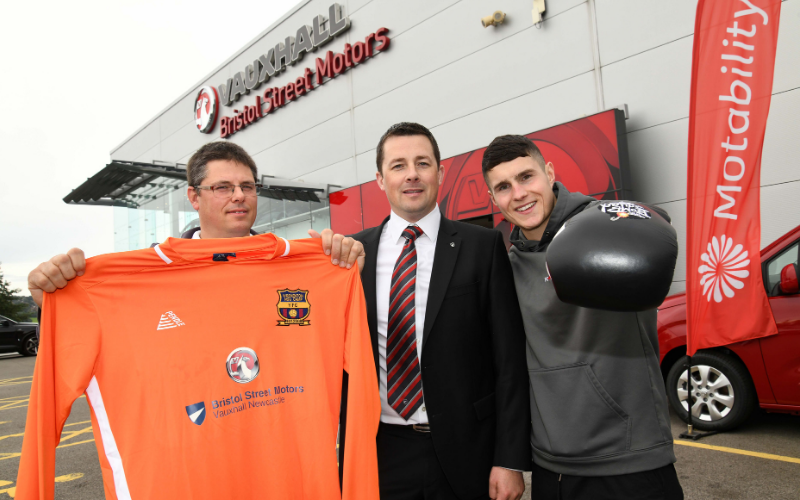 Bristol Street Motors Newcastle Vauxhall is supporting budding young sports stars with the sponsorship of Birtley Boxing Club and Wreckenton Nou Camp YFC.
The dealership has made a financial donation to the Boxing Club to purchase training equipment for the young boxers, as part of an ongoing relationship. In addition, Wreckenton Football Club Under 15s will proudly wear the Bristol Street Motors logo on their new kit for the upcoming season.
Birtley Boxing Club is one of the most successful amateur clubs in the country. It recently contributed a third of the Great Britain team for the European Games in Minsk with Pat McCormack winning Gold in the 69kg final and his twin, Luke, returning to the UK with a bronze medal at 64kg.
Wreckenton Nou Camp YFC Under 15s, who play at the Camp Ground in Gateshead, compete in the Russell Foster league, the biggest youth league in the country. They won promotion last season from Division Four to Division Two and are looking forward to continuing that success when their new season starts.
Liam Fenwick, general manager at Bristol Street Motors Vauxhall Newcastle, said: "It's fantastic that we are able to support two local sporting organisations that have such strong reputations. Sport is an important way to teach young people about teamwork and discipline, as well as enabling them to have fun. Birtley Boxing Club is a real production line for successful boxers, taking them from an early age and providing expert coaching and training and we're pleased to play a small part in the club's ongoing success. Wreckenton Nou Camp YFC has 13 teams of differing ages and compete very successfully at all levels. The Barcelona style strips are fantastic and I'm looking forward to seeing our name on the front of the Under 15s kit."
Ron Burge, chairman of Wreckenton Nou Camp YFC, said: "It's really important that we get support from local businesses. Everyone at the club is a volunteer and we rely heavily on parents to transport the players to and from matches, so to not have to worry about the cost of the kits is really important."
Joe Laws of Birtley Boxing Club said: "Liam and his colleagues at Bristol Street Motors are great supporters of the boxing club and we'd like to thank them for this donation, which will buy some great new equipment for the gym."