Bristol Street Motors supports band's fund raising appeal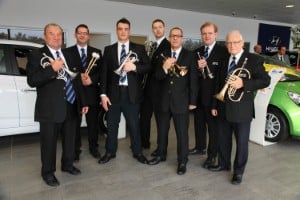 Bristol Street Motors Hyundai, the Peterlee-based car showroom, has thrown its weight behind a local charity appeal.

The firm has announced that at part of its ongoing support to the Dunston Silver Band it will back its forthcoming performance at the 90th anniversary celebrations of the Royal British Legion, which will raise money for the Poppy Appeal.

As part of a joint performance, members of the band will play alongside the GT Group Band Peterlee at East Durham College's Lubekin Theatre on November 2nd at 19:00.

Robert Forrester, Bristol Street Motors' chief executive, commented: "Brass bands have a long heritage in the north-east and we believe it is vitally important that they continue to prosper.

"They also perform a brilliant social role in the community where people of all ages can learn to play a musical instrument."

Keith Lee, leader of Dunston Silver Band, added that the support it receives from Bristol Street Motors is "fantastic", saying it allows the band to move forward and continue training its musicians.