BTCC fans urged to vote for driver of the year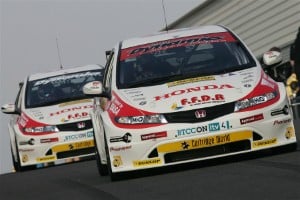 British Touring Car Championship (BTCC) fans are running out of time to get their votes in for Driver of the Year.

Crash magazine is running a poll to determine which of the key drivers had the best season and voting is set to close tomorrow (December 15th).

While an obvious choice would be to pick Matt Neal, a number of racers are in contention for the accolade.

Neal will attract plenty of attention from voters after becoming the first triple BTCC title winner for more than 20 years.

Indeed, the feat was last achieved by Andy Rouse in the early 1980s.

While the season was taken down to the wire, Neal ultimately pipped team mate Gordon Shedden to the title on the last day of the race calendar.

Shedden, with less race experience than Neal, could also get the nod after running his mentor so close.

Neal described his rival as "like a little brother" after picking up his crown, but could be outdone by the man known as Flash if race fans look for future potential rather than current form to sway their pick.

However, while Neal and Shedden battled it out for supremacy they were helped by the performance of the Honda Civic on the track.

With that in mind former champion Jason Patio could enter many fans' consideration.

The ace put together a string of impressive performances over the season despite having to battle with a normally-aspirated car.

Pato said that despite the lack of turbo power, his Chevrolet Cruze is "without a doubt the best Touring Car" he has ever driven.

Those looking forward to how Pato will perform in an upgraded version of the model next year could be tempted to give him the accolade for sheer determination.

Who do you think deserves the title of BTCC Driver of the Year for 2011?