Can one of RenaultSport's drivers continue record F1 season?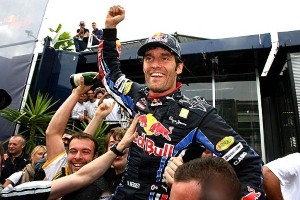 This weekend sees the Formula One (F1) season head to North America for the Canadian Grand Prix and race fans will be hoping that the record-breaking start to the 2012 season will continue.

For the first time in the history of the sport, the first six races of the campaign have been won by six different drivers from five different teams.

However, Lotus Renault driver Kimi Raikonnen and McLaren ace Lewis Hamilton have yet to taste glory this year despite some strong performances and both will be in contention to take the chequered flag at the Circuit Gilles-Villeneuve.

One man looking to make sure that does not happen will be Red Bull driver Mark Webber.

The Australian driver, who is powered by RenaultSport's impressive RS27 engine unit, secured his eighth career win last timeout in Monaco and after a long spell of indifferent form will hope to extend his run.

However, Webber has taken unusual steps to unwind ahead of the trip to Canada after performing his first skydive earlier this week.

"It was in a wind tunnel, so it obviously wasn't real sky-diving but it was great to catch up with Jon [DeVore] who is a phenomenal Red Bull athlete from California," he explained.

"We did a few tricks yesterday with a car and a parachute and it was really good, I enjoyed it. I don't know if I've got the bug to jump out of planes to be honest but I enjoyed it"

Turning his attention to the task ahead, Webber said that the Canadian Grand Prix is always an enjoyable drive with a mixture of street circuit and race track aspects to the event.

"Obviously the cars won't be in the Monaco configurations, so we'll have to look for the top speeds. You still need a pretty good car here, there's no question about that," he added.

"I enjoy it here. It always throws up a bit of an oddball race. I think that we need to see how the marbles go, the brake wear, incidents, safety cars. It's always been like that the Canadian Grand Prix."