Car Handbooks Are Longer Than Many Famous Novels - Have You Read Yours?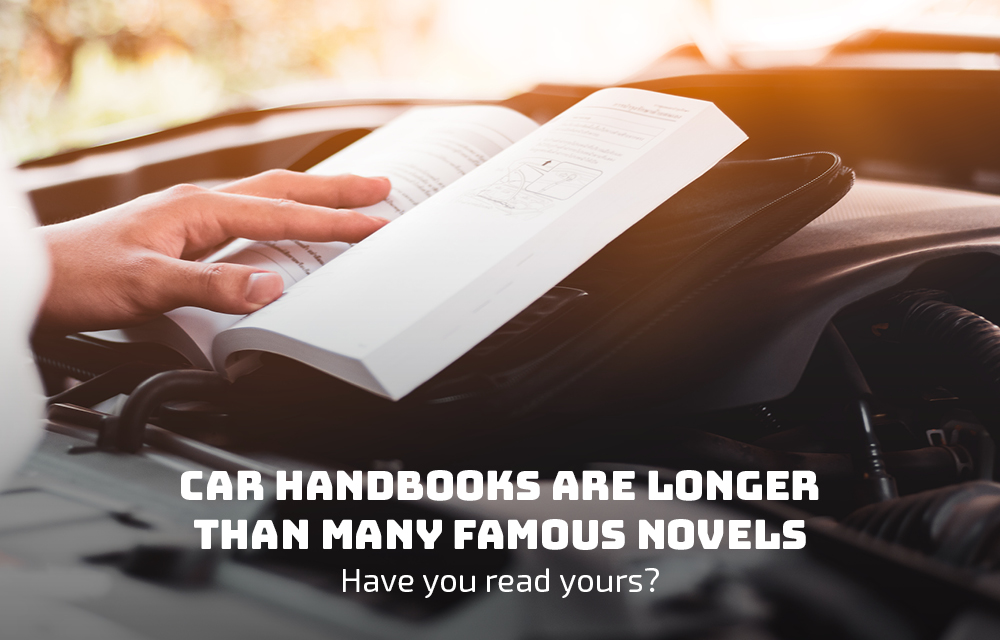 When you get your hands on a new car, you will also be given an owner's handbook outlining every feature and how it works. Now, although this sounds useful in theory, the likelihood is that once you get home, the handbook will be put into a draw and forgotten about until it is time to change cars.
Bristol Street Motors surveyed 350 people to find out how many actually ever read their handbook and analysed the word counts 30 of the UK's most popular cars to see which were the longest and how long it would take for you to read them.
Key Findings
60% of motorists didn't bother reading their car handbook before driving their car for the first time.
Only 29% had read their car handbook in full.
Only 37% of motorists would choose to consult their handbook first if they had issues with their car, with the majority preferring to get their information from YouTube, the internet, friends and family.
The Audi A3 handbook would take 11 hours 45 minutes to read, that's longer than The Lord of The Rings: The Two Towers and the first Twilight novel.
For every centimetre the Hyundai i10 is long, there are 256 words of handbook to read.
The Audi A3 handbook is 167,699 words long and would take you the best part of a day to read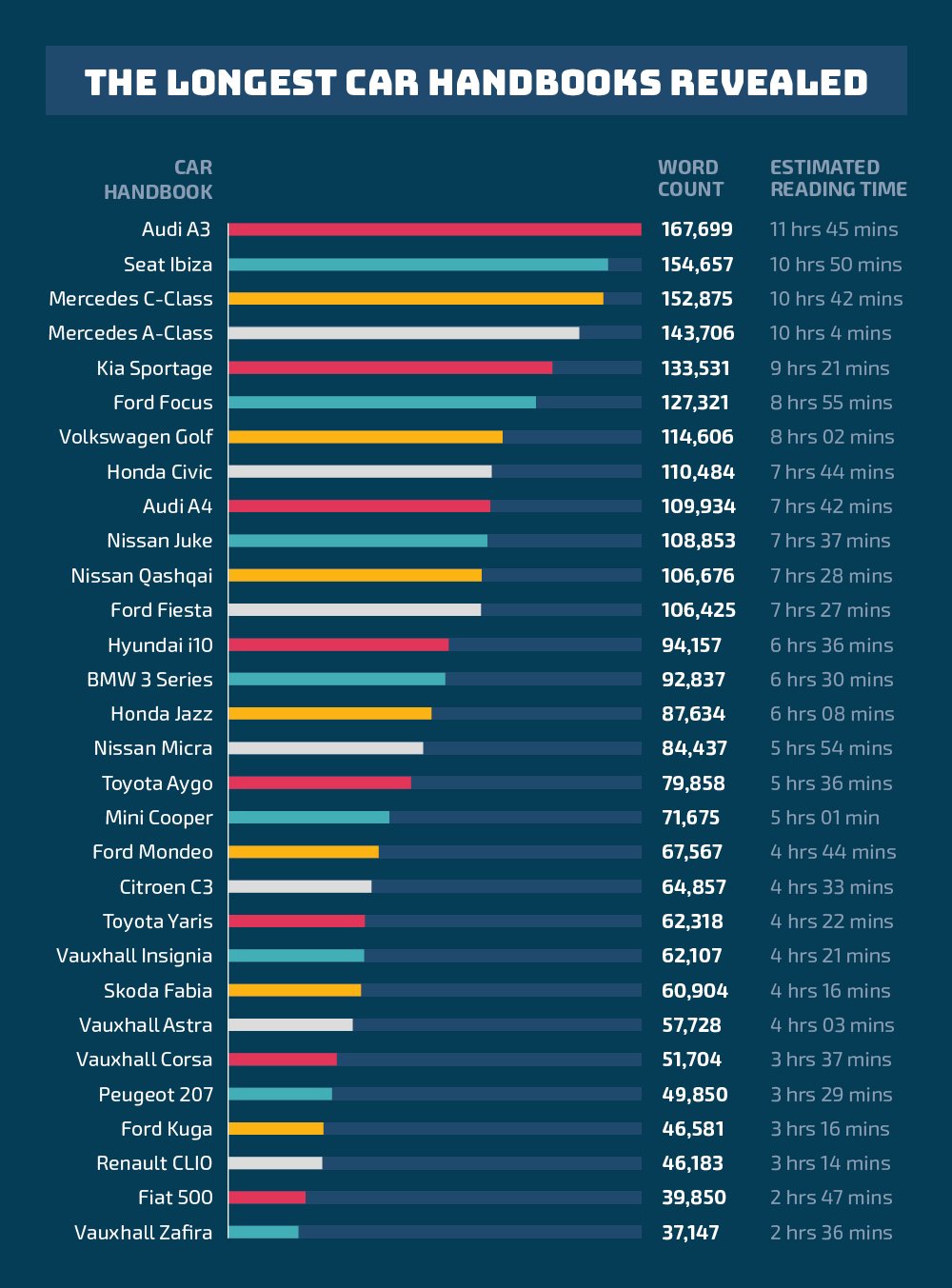 The longest handbook that we counted clocks in at a staggering 167,699 words and belongs to the Audi A3. If you read it non-stop with no breaks, it would take you 11 hours and 45 minutes to complete. The car in second place is the Seat Ibiza, coming in with 154,657 words, but that's still just over 13,000 shy of the Audi A3 – the standout winner.
Mercedes ranks consistently in the higher positions, with the C-Class and A-Class totalling a combined 296,581 words between them. This pattern of brands with different models having similar word counts is obvious throughout our findings. The Nissan Juke and Qashqai are only separated by 2,177 words, whereas the Vauxhall Astra and Corsa are separated by 6,024 words. It appears the size of a car substantially impacts the length of the owner's handbook. There are 10 small cars in the bottom 50% of our list, compared to just 5 in the top half.
The Hyundai i10 is 3.7m long, or 367.5cm to be exact. If you divided its handbook's total word count of 94,157 by that amount, it would mean that there are 256 words to read for every centimetre the car is long. Normally, a person uses around 8 cars during their lifetime, and the average time taken to read a car handbook in our dataset is 6 hours 17 minutes. This means you'll spend 2 days 2 hours and 19 minutes reading car handbooks in your lifetime (if you can be bothered).
Car handbooks can take longer to read than famous novels like The Lord Of The Rings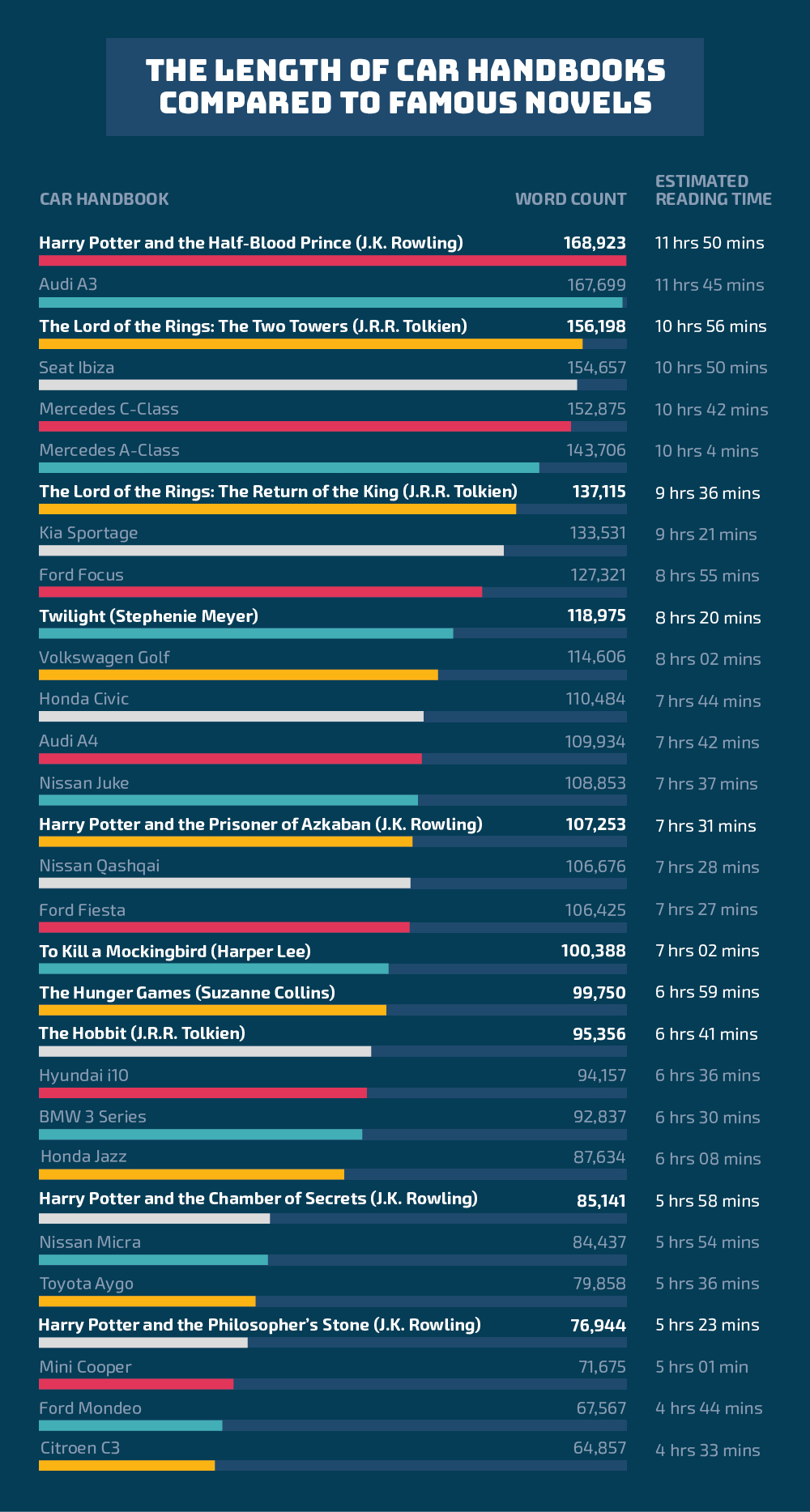 To put into context just how large many of the car handbooks we analysed are, we've compared them to some of the world's most famous novels, including the Harry Potter and The Lord Of The Rings series. Reading the handbook for a Seat Ibiza would take you around the same time as J. R. R. Tolkien's The Lord Of The Rings: The Two Towers – around 10 hours and 56 minutes.
If you set some time aside to make your way through your Nissan Juke handbook, it'll take you around the same time (7 hours 28 mins) to complete as enjoying Harry Potter and The Prisoner Of Azkaban from start to finish. In fact, you could read To Kill A Mockingjay, The Hunger Games or The Hobbit in less time as it would take you to finish a Ford Fiesta handbook.
How about Shakespeare we hear you ask? Well, the car handbooks we counted were way bigger than the likes of King Lear, Macbeth, and Midsummer Night's Dream. If you take Shakespeare's longest play of Macbeth for example, which features 30,557 words, the Audi A3 handbook is over 5 times bigger with its 167,699 words.
To read or not to read? Does the length of your car handbook put you off reading it?
Our research has shown that most motorists would rather consult YouTube when encountering an automotive problem rather than trawling through their car handbook to search for an answer. But what about you? Does the length of your car handbook but you off reading it?
One solution to make car handbooks easier to read in the future would be digitising them. This would mean users could filter through to the parts that they wanted to read much quicker.
Make sure to bookmark the Bristol Street Motors news page for other automotive content, including our recently published Road To Nowhere interactive map outlining the location of the UK's abandoned roads and their cost.
*The time taken to read each car handbook and novel was calculated by taking the word count and dividing it by the average amount of words someone is capable of reading in 1 minute (238).